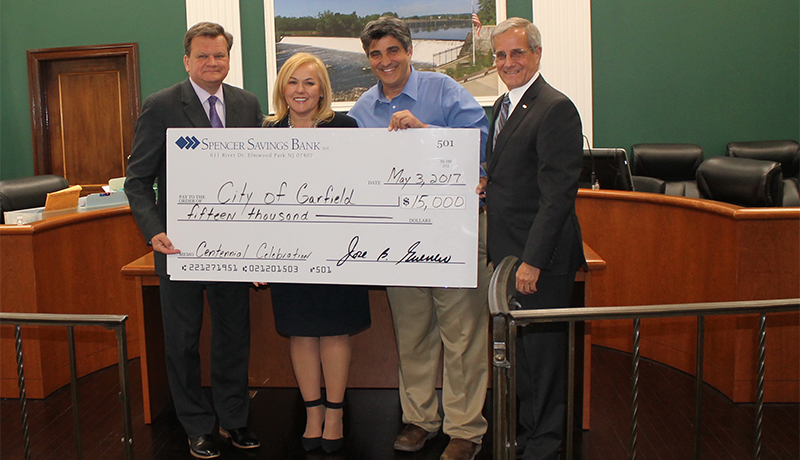 Spencer Savings Bank was proud to have presented a $15,000 donation to the City of Garfield in support of the city's centennial celebrations.
The donation is only the humble beginning of a greater year-long celebration of festivities and events honoring the City's 100th year anniversary. Spencer Savings Bank is proud to be the primary sponsor of this celebration and kicked off the festivities by participating in the Garfield Centennial Celebration Parade with a float two Sunday's past. The parade brought crowds to the streets and featured more than 60 participating organizations, various food vendors and entertainment for families.
"We are honored to take part in celebrating the Garfield community," said José B. Guerrero, Spencer Savings Bank Chairman, President and Chief Executive Officer. "Our first Spencer branch was opened in Garfield on Passaic Street in 1939. Garfield is our home and the community is like family to us. We are so proud and honored to be part of this exciting celebration. Congratulations Garfield on 100 years!"
Several Spencer Savings Bank employees are actively involved in the planning committees behind the centennial festivities taking place this year, all of which are orchestrated to acknowledge and honor the 100th year passing since the borough of Garfield officially became a city on April 19th, 1917. The 100th anniversary is a year-long celebration to be continued through the end of 2017 with a formal gala dinner in December.