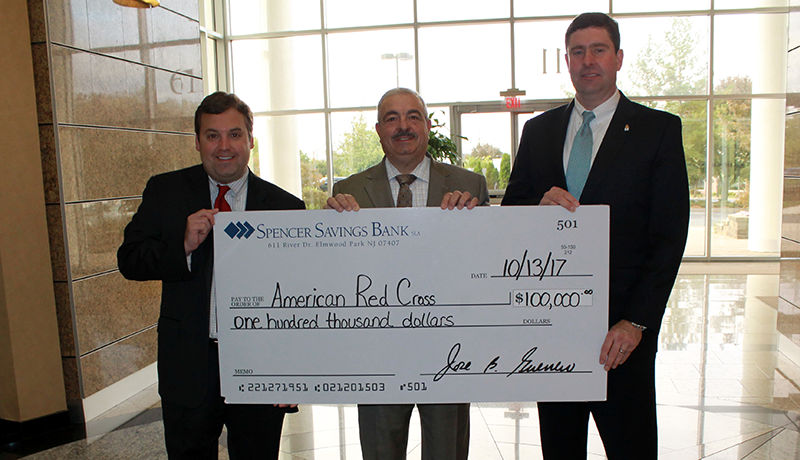 Spencer Savings Bank presented a check for $100,000 to The American Red Cross, which will be used toward relief efforts from Hurricanes Harvey and Maria. On Friday morning, Chairman, President and CEO José B. Guerrero presented the check to American Red Cross members William Miller; Chief Development Officer, New Jersey Region, and Steven Spinner; Senior Director, Corporate Relations.
Hurricane Harvey and Hurricane Maria caused destruction in Texas, Louisiana, and the Caribbean and left many without basic needs. Aside from The American Red Cross' food, shelter, and comfort provisions, donations have provided financial assistance for qualified Texas households. The current situation in Puerto Rico includes little clean water and electric power, and almost no telecommunications. The International Federation of the Red Cross has been working with government and relief agencies, along with the Red Cross societies across the Caribbean and around the world, to provide support.
"We wanted to help with hurricane relief efforts," said José B. Guerrero, Chairman, President and CEO. "The American Red Cross is such a reputable organization that has been helping the hurricane victims from the onset and will continue to do so until they can restore normalcy in the communities affected."
Founded in 1881, The American Red Cross is a humanitarian organization comprised of hundreds of thousands of employees and volunteers. As part of Hurricane relief efforts, the organization is providing food and water, relief supplies, comfort and emergency support, and also helping families reconnect. In areas without cell service, satellite phones and other technology supplies have been shipped in to aid in communication. The organization is also taking steps to reduce the risk of epidemic outbreaks.