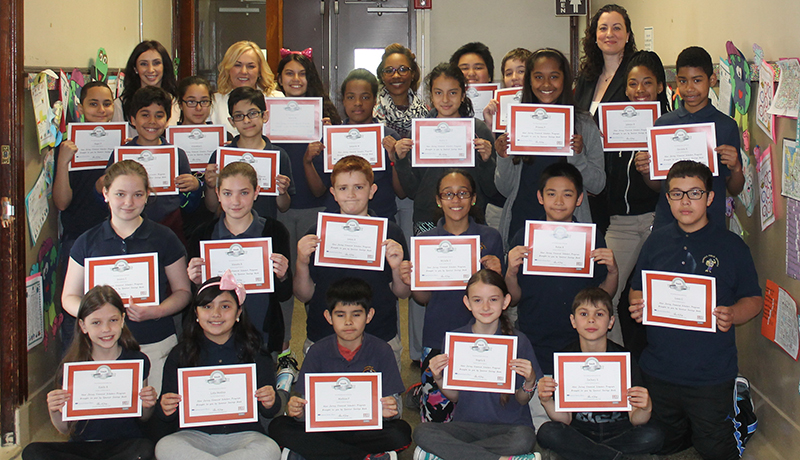 More than 300 Garfield, N.J. fifth graders earned EverFi, Inc. financial literacy certificates from Spencer Savings Bank as part of an ongoing initiative to teach local students the basics of banking and money management.
The bank visited six schools on May 9th and 10th to give each student that successfully completed the program certificates. Prior, the students enjoyed showcasing their knowledge and enthusiasm in a game of Jeopardy.
"It is rewarding and fulfilling to see these youngsters accomplish a great feat that will benefit them for the rest of their lives," said Marzena Czachor, Garfield Branch Manager. "By developing an early understanding of basic financial concepts, such as what a savings account is and why it is important to save, they are taking the first steps toward a bright and successful future. Their parents should be extremely proud."
Spencer Savings Bank began its partnership with EverFi in 2013 to bring the leading technology education company's interactive, web-based financial management program to New Jersey schools at no cost to the schools or taxpayers. Delivered through a personalized tracking platform, the program is engaging and interactive, with real-world application and proven results.
During the 2014-2015 school year, Spencer's EverFi initiative reached more than 500 students at three high schools. 2,847 individual modules were completed, and students' knowledge of key financial topics rose by an average of 85 percent based on pre- and post-assessment scores. In 2015, the Consumer Financial Protection Bureau (CFPB) highlighted EverFi's schools-based financial education programs in a report titled, "Advancing K-12 Financial Education: A Guide for Policymakers."
"EverFi strives to help today's generation prepare for a lifetime of challenging financial decisions", said EverFi CEO and Founder, Tom Davidson. "We are grateful for our partnership with Spencer, which provides New Jersey students with the critical skills they need to be savvy, responsible consumers."