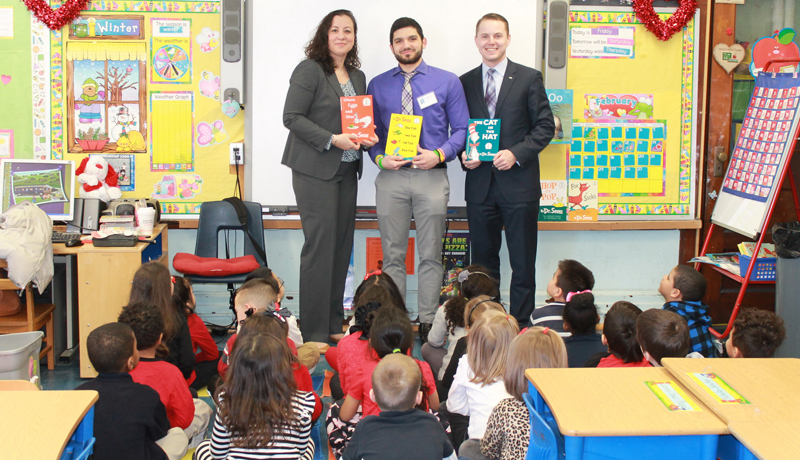 Students at Garfield's Roosevelt School #7 and Spencer Savings Bank came together on February 27th to celebrate Read Across America Day. The commemorative day is the nation's largest reading event, occurring every year near Dr. Seuss' birthday.
Michael Petreski, Garfield Branch Staff Member, Anita Guerrero, Assistant Vice President of Marketing and Anthony Niciejewski, Assistant Vice President of Retail Banking read aloud to the different classes at the event and shared in the day's mission of promoting literacy in our schools. The Spencer team brought 400 piggy bank giveaways, cupcakes and refreshments with them for the kindergarten students. A number of other professionals in the community also came by the school to read to students, including the mayor of Garfield.
"It's always wonderful to see a room full of attentive youngsters listening to reading" said Marzena Czachor, Vice President & Garfield Branch Manager. Czachor, who organized the event, believes events like this are of paramount importance today for our community's children. "Promoting literacy isn't just the teacher's job. We all need to show children how important reading is and how fun it can be."
Promoting literacy among our youngest generations is one of the several community initiatives Spencer Savings Bank works to champion each year. The bank's community service work has been a constant element in the Garfield area for over 75 years.