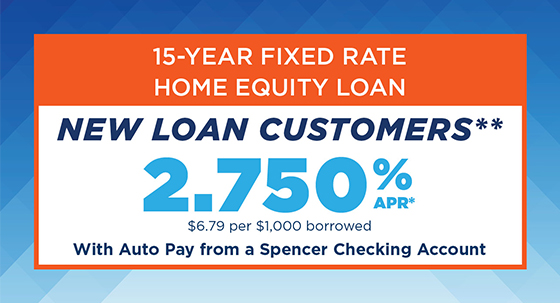 Limited Time Only For New Loan Customers
Whether you want to make home improvements, purchase a new car, consolidate debt, finance your child's education or want to plan well-deserved vacation, Spencer has the right home equity loan for you. We offer a variety of suitable options to allow you to use your equity to meet your personal goals. We will take the time to get to know you and your needs to find the perfect loan option for you.
DOWNLOAD APPLICATION

*APR = Annual Percentage Rate. This interest rate includes a .125% reduction when monthly payments are automatically deducted from a Spencer checking account. **ELIGIBLE BORROWERS: This rate is available only to new applicants who currently do not have an existing mortgage or home equity loan/credit line with Spencer Savings Bank and do not have an application in process as of 9/19/21. Loan must be secured by a first or second lien on an owner-occupied 1-4 family home in New Jersey or Bucks County, PA. Other rates and terms are available for those not eligible for this program – call for details. APPLICATION FEES: (which will be billed after we provide you with the necessary disclosures) are as follows: Loans up to $150,000: $0; Loans above $150,000 up to $249,999: $225 (1 family), $450 (2-4 family). Loans of $250,000 or more: $300 (1 family), $450 (2-4 family); however, if the loan is secured by a property of 2,800 square feet or more a fee of $500 will be charged. Commitment Fee of $150 is charged on all loans. Property Insurance is required. Flood Insurance may be required. Payments shown do not include applicable taxes and insurance. Rates and terms are subject to change without notice. Offer is subject to credit approval.