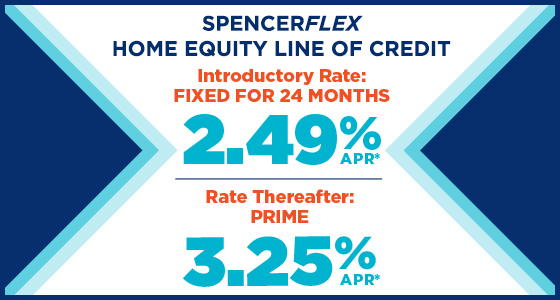 New Loan Customers**
Enjoy the flexibility of a Home Equity Line of Credit with a low fixed rate for 2 years!
A SpencerFlex Line of Credit is ideal for people who borrow and repay large amounts of money over short periods of time, or for those who wish to have a cash resource available for unexpected expenses. This home equity loan type may be the ideal solution for home improvements, paying down higher rate balances, financing a major purchase or funding educational expenses. With our unique "Flex" conversion feature, you have the option of locking in a fixed rate on all or part of your current balance with a ($25,000 minimum), without having to reapply.
DOWNLOAD APPLICATION

*APR=Annual Percentage Rate. Introductory APR of 2.49% is fixed for 24 months from date of loan closing. After introductory period, the rate is based on the Prime Rate as published on the last business day of the month in the Wall Street Journal. As of 10/29/21 the Prime Rate was 3.25% resulting in a rate of 3.25%. There is a Maximum Rate of 13.99% and a Floor Rate of 3.25%. **ELIGIBLE BORROWERS: The introductory rate is available only to new applicants who currently do not have an existing mortgage or home equity loan/credit line with Spencer Savings Bank and do not have an application in process as of 11/7/21. Loans must be secured by a first or second lien on an owner-occupied 1-4 family home in New Jersey or Bucks County, PA. APPLICATION FEES: Loans up to $150,000: $0 ; Loans above $150,000 up to $249,999: $225 (1 family), $450 (2-4 family). Loans of $250,000 or more: $300 (1 family), $450 (2-4 family); however, if the loan is secured by a property of 2,800 square feet or more a fee of $500 will be charged. Commitment Fee of $150 to be paid within 10 days of approval (refunded if at least $25,000 is drawn at closing to pay a creditor other than Spencer Savings Bank). Early Termination Fee if line is closed within 24 months: $300 (lines up to $100,000) or $500 (lines above $100,000). Optional Conversion Fee of $75 ($125 in the first year). Property Insurance is required. Flood Insurance may be required. Rates and terms are subject to change without notice. Offer is subject to credit approval.