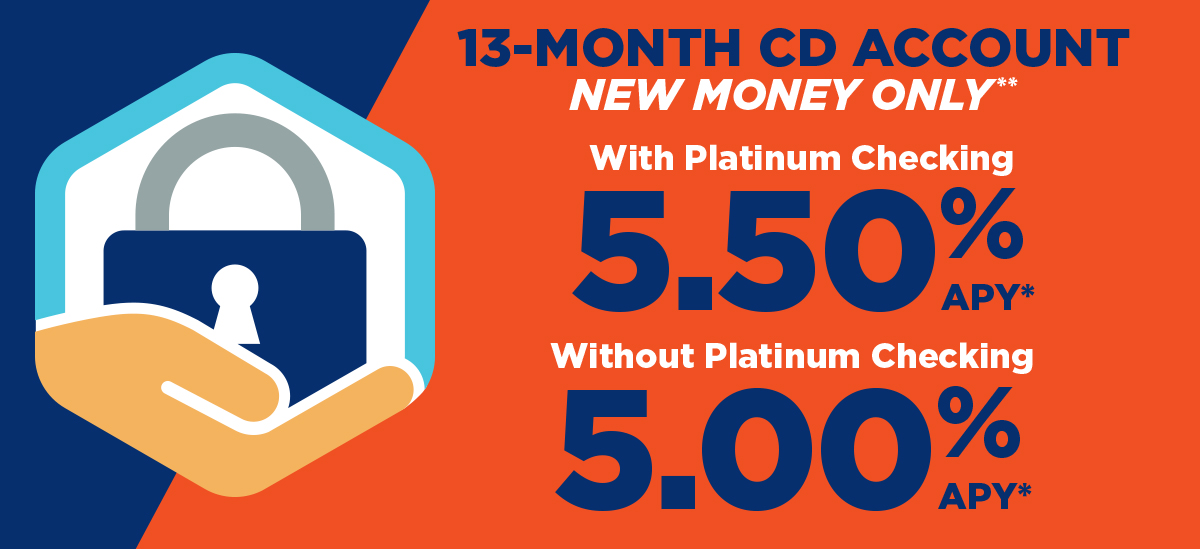 At Spencer, we're committed to your long-term goals. Leave uncertainty behind and look forward to major savings. Spencer's Certificate of Deposit accounts provide a convenient way to earn more. Act now and take advantage of this great annual percentage yield with a 13-Month CD account!
This offer won't last, but the savings will when you act now. Watch your money grow with our competitive rates.

*APY=Annual Percentage Yield. This APY is only valid on the 13 -Month CD. To qualify for the 5.50% APY, customer must maintain an active existing Platinum Checking Account or open a new Platinum Checking Account at the same time as CD account opening with the same tax-identification number as the CD account holder. Limit of one account opening per tax identification number. Maximum deposit for 5.50% APY promotion is $50,000; and $25,000 for 5.00% APY promotion. These offers are valid for new money only. Platinum Checking is a variable tiered rate checking account and has no monthly service charge if a minimum daily balance of $2,500 is maintained. Otherwise, a $15 Monthly Service Fee will apply. An active checking account is defined as an account that has multiple debits and credits coming in and out of the account on a monthly basis. Account Closing: If the Platinum Checking Account is closed by Spencer or the customer within 13 months of the opening date of the CD account, the promotional interest rate will be forfeited, and the account will be adjusted to reflect the 5.00% APY for the full term. A $1,000 minimum deposit is required to open the CD account and to obtain the stated APY. Interest is compounded daily and credited monthly. APY assumes interest remains on deposit until maturity. A penalty will be imposed for premature withdrawals. Fees may reduce earnings on account. Spencer offers the convenience of automatic renewals. If either you or we prevent renewal, interest will not accrue after final maturity. Available to individuals living in New Jersey. APY is accurate as of 1/24/2023. Offers may be withdrawn at any time. **New Money is defined as money not on deposit at Spencer Savings Bank.