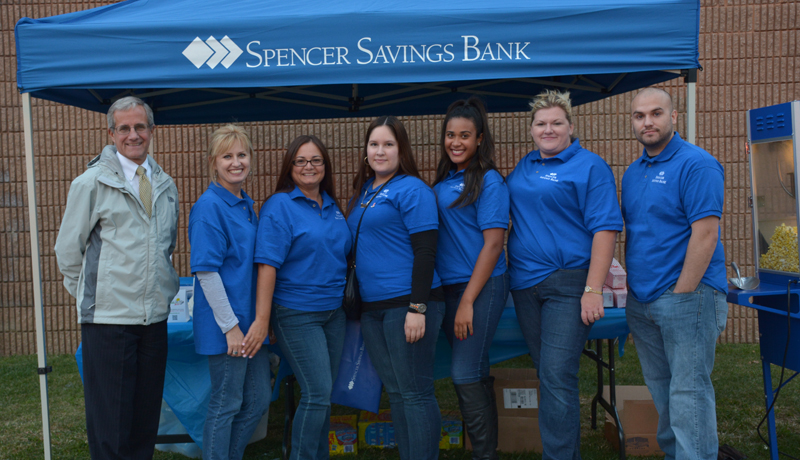 Spencer Savings Bank, a community bank headquartered in Elmwood Park, NJ hosted another successful Movies Under the Stars event on September 19, this time in Elmwood Park. More than 200 residents came together at the Boro Field to watch the classic Disney film, "The Lion King." The event was co-sponsored by the Elmwood Park Recreation Department.
The popular Movies Under the Stars series provides an opportunity for members of the community to come together and enjoy an evening of free, family friendly entertainment. Attendees of the Elmwood Park event were greeted by a bonfire hosted by the Elmwood Park Fire Department prior to the screening, which helped to warm up the crowd. Spencer branch team members were also on hand serving up freshly popped popcorn and refreshments. Several lucky attendees won door prizes provided by the bank, and glow sticks were a hit with kids of all ages.
"When we spend time out in the community, it provides us the opportunity to get to know our neighbors and customers on another level," said Janel Bazih, AVP & Marketing Manager for Spencer. "Elmwood Park is an amazing place to live, and we look forward to more events like this in the future."
As the sun began to set, residents settled in to watch the evening's feature film. A true Disney classic, "The Lion King" celebrated its 20th anniversary earlier in 2014. The animated musical adventure, now also a popular Broadway show, follows Simba, an African lion cub who must confront his uncle to claim his right to the throne among the pride after the murder of his father, Mustafa.
With the arrival of fall, this was the last Movies Under the Stars screening for 2014, but Spencer looks forward to another season of feature films and community-building in 2015.