In the market for a home or looking to refinance a current mortgage? Your rate could be lower than you ever imagined if you act fast. The current market presents a window of opportunity to capitalize on – don't miss this chance!
Fixed Rate Mortgage
A Fixed Rate Mortgage loan from Spencer is structured so interest rates and monthly payments are fixed for the life of the loan. Homeowners have the security of knowing their interest rate will always be the same. If you plan on occupying your home for an extended period of time (10 years or more), this is the type of loan for you. Learn more about other Fixed Rate Mortgage features.
Adjustable Rate Mortgage (ARM)
ARMs usually start out with a lower interest rate than fixed rate mortgages and remain constant for a specified amount of time. After the initial period, the rate is adjusted, and can go up or down according to the index, margin and annual/lifetime caps stated. ARMs are usually a good choice when you only expect to keep the home for less than 7 years or when you'd rather pay less now but expect your income to increase in future years. Learn more about other Adjustable Rate Mortgage features.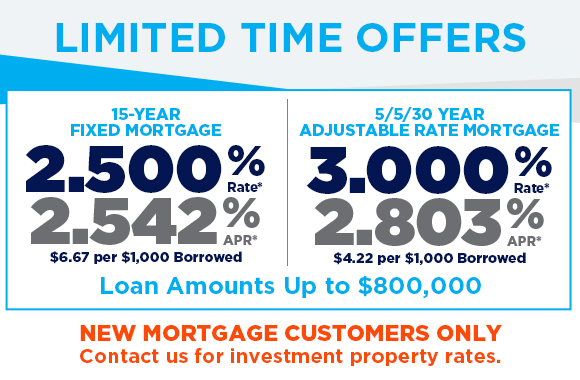 *APR = Annual Percentage Rate. New mortgage customers only – existing mortgage refinances are not eligible for this promotion. Above rates, APRs and terms apply to single family, owner-occupied contract sales and refinances in amounts up to $800,000 on properties throughout New Jersey and Bucks County, PA. Private Mortgage Insurance is available for down payments less than 20%. Rates may vary subject to loan amount, purpose of loan, etc. and are subject to change without notice. The APR may vary. Payments shown do not include applicable taxes and insurance. Actual payment obligation will be greater. Property Insurance required. Flood Insurance may be required. Fees: Attorney Review Fee is $325, Final Inspection Fee $175 (if applicable). Credit Report Fee ($27.74 per borrower.)Application Fee $134.02 (1-4 family) and Flood Certification $10.50. Appraisal Fee $350 (1 family) or $550 (2-4 family), which may be higher for complex properties. These fees must be paid upon request by Spencer during the processing of your application, but no later than three (3) business days after receipt of a signed loan estimate. These fees are non-refundable. For ARM loans, when the rate adjusts, your new rate will be the current index plus the margin. On the first rate change date, your interest rate cannot increase more than 2% above the initial interest rate. Your interest rate cannot increase more than 6% above the initial interest rate over the term of the loan. Current Index: 5/5 ARM = 5 year Treasury; Margin: 5/5 ARM = 2.50%. All loans are subject to credit approval.