Kasasa Cash is more than a checking account. Offering a very high interest rate, secure direct deposits, convenient online banking with paperless eStatements, and even ATM fee refunds, it's like getting paid to do your everyday banking.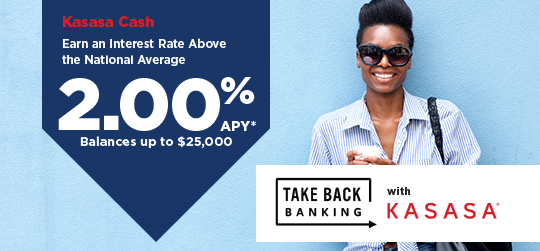 Kasasa Cash Checking features:
No Minimum Balance Requirements
Free Online Banking & Bill Pay
$100 Minimum Opening Deposit
Free ATM/Visa® Debit Card
Tiered Interest Rates
Monthly eStatements
ATM Fee Refunds (Monthly Limit of $25)

*APY = Annual Percentage Yield. The following interest rate of 1.98% with an APY of 2.00% will be paid only for that portion of your daily balance that is $25,000 or less. An interest rate of 0.30% with an APY ranging from 0.64% to 2.00% depending on the balance in the account will be paid only for that portion of your daily balance that is more than $25,000. Rates may change after account is opened and are subject to change without notice. Fees may reduce earnings on the account. APY's are accurate as of 7/01/22. The above interest rates and APYs will be paid provided that the Kasasa Cash Checking qualification requirements are met within the corresponding statement cycle. If you do not meet the qualification requirements for a statement cycle, your account will still function as a checking account earning 0.05% APY; however, it will not receive ATM fee refunds for that statement cycle. No minimum account balance required, however, you must deposit a minimum of $100 to open this account. Available to personal account holders only. No monthly service charges. Nationwide ATM fees up to $25 monthly will be refunded, provided qualification requirements are met. All qualifying transactions must post and clear your account within one statement cycle. To earn 2.00% APY and ATM fee refunds, per statement cycle you must: (a) conduct at least 12 debit card purchases which post and clear your account within one statement cycle; (b) receive at least one ACH direct deposit or process at least one automatic debit which posts and clears your account within one statement cycle; (c) establish and maintain a Spencer Online Banking relationship; and (d) elect to receive your monthly account statements via Online Banking. ATM transactions do not qualify as debit card transactions. Available to individuals who live in NJ. Kasasa Cash and Kasasa Cash Back are trademarks of Kasasa, Ltd., registered in the U.S.A. Click here for monthly qualification cycle information.