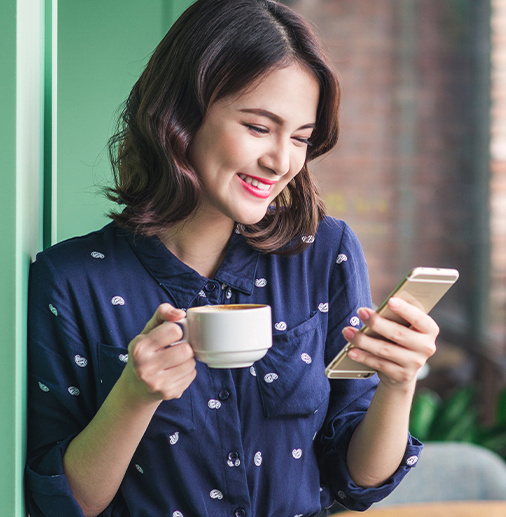 Platinum checking gives you everything you want in your checking account. Including more cash!
Platinum checking is our full-service checking account that gives you all the extras. And right now, we'll also give you a $100 Cash Bonus* when you open your account and meet the eligibility requirements. Enjoy our best banking features like
Tiered Interest Rates Based on Account Balance
Free Online Banking/Bill Pay
ATM Fee Refunds (Monthly Limit $16)
Premium CD Pricing (+0.25%)
Monthly eStatements
One Time Loan Application Fee Discount of $100
Safe Deposit Box** ($25% Discount)

*Open and maintain a new Platinum Checking Account for 90 days and receive a $100 cash bonus. Platinum Checking is a variable rate, interest-bearing account with tiered interest rates as follow: Daily balances – $100 – $2,499.99 – no interest earned, $2,500 – $9,999.99 – 0.05% APY, $10,000 – $34,999.99 – 0.25% APY and $35,000 or more – 0.30% APY. Rates may change any time and after the account is opened. APY=Annual Percentage Yield. These APYs are accurate as of 9/01/2023. There is a $100 minimum to open this account. There is a monthly service charge of $15 if the daily minimum balance falls below $2,500 at any time during the statement cycle. You must maintain a minimum daily balance of $2,500 to obtain interest and to maintain an active Platinum Checking Account in good standing for 90 days to qualify for the cash bonus. An Active checking account is defined as an account that has multiple debits and credits coming in and out of the account on a monthly basis. The $100 cash bonus will be credited to your new checking account within 120 days after the account opening. Fees may reduce earnings on this account. Offer may be withdrawn at any time. For online and mobile banking, third party fees may apply. Available to individuals who are primary residents of NJ and currently living in NJ or former NJM Bank customers who currently maintain an existing deposit account and who are primary residents of and live in Bucks County, PA. This offer is only valid for 60 days from the date of receipt of this postcard. Cash bonus payment subject to IRS tax reporting requirements. This offer is limited to one cash bonus per eligible customer Tax-ID. This postcard must be presented at the time of account opening. **Safe Deposit Boxes are not a deposit or FDIC insured.