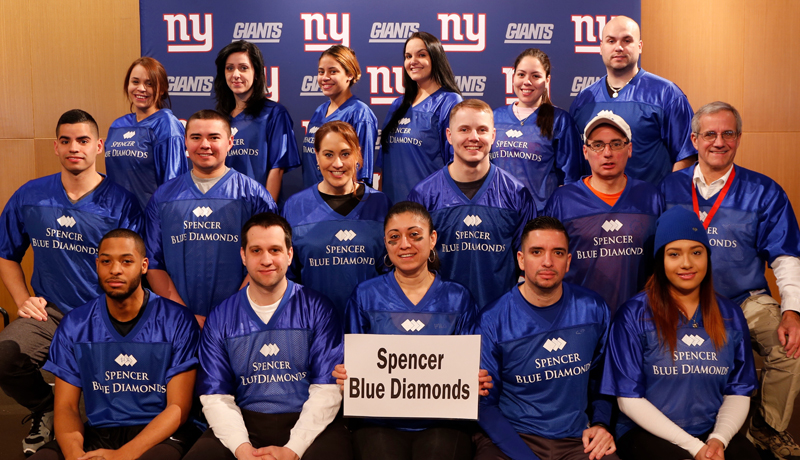 Spencer Savings Bank was a key player in the 10th Annual New York Giants Snow Bowl, continuing its tradition of participating in the weekend-long flag football tournament at the Giants' Quest Diagnostics Training Center.
The community bank headquartered in Elmwood Park, N.J. fielded a team of 17 employees – nicknamed the "Spencer Blue Diamonds" – for a flag football game on Sunday, March 6 to culminate fundraising efforts for Special Olympics New Jersey. This year, Spencer raised nearly $15,000, the third highest team total in the entire Snow Bowl. It was familiar turf for the bank, which has now placed among the top three fundraising teams for four consecutive years.
"Special Olympics New Jersey always does such an incredible job with this event," said Spencer Savings Bank Chairman, President and CEO José B. Guerrero. "The Snow Bowl is something we truly look forward to every year. We are both proud and humbled to be a part of it."
The event is usually held at MetLife Stadium, but a current returfing project there gave participants the chance to instead experience the Giants' state-of-the-art, temperature-controlled practice facility.
Since its inception 10 years ago, the Snow Bowl has raised more than $2.3 million toward helping roughly 25,000 Special Olympics New Jersey athletes train and compete free-of-charge, year-round, in 24 sports.
Spencer extends a heartfelt thank you to the many customers, employees, and bank community members who lent their support and made such an impactful donation possible.