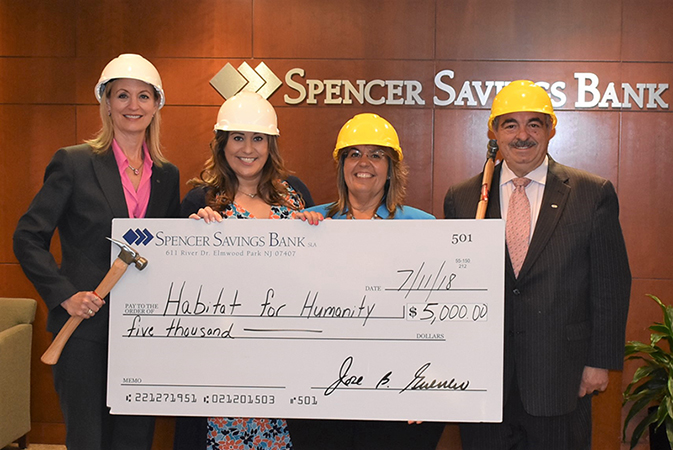 Spencer Savings Bank recently made a $5,000 donation to Habitat For Humanity in support of community members realizing their dreams of homeownership. The nonprofit organization is dedicated to improving lives and communities by providing decent, affordable homes for hard-working families.
"Habitat believes in a world where everyone has a decent place to live and so do we," said Jose B. Guerrero, Chairman, President and CEO of Spencer Savings Bank. "We're very proud to have spent over 20 years partnering with this amazing organization. Over the years, we've donated almost $75,000 to their projects with our employees volunteering their time to actually help build the homes. They've learned a lot about construction and have also formed a great friendship with the Habitat staff. The houses are a beautiful edition to our community and we congratulate these hard working families on achieving their homeownership dreams!"
Since 1976, Habitat for Humanity has helped more than 13.2 million people meet their affordable housing needs. The organization believes people should have a durable place to live in dignity and safety and that shelter builds stability and affordable housing plays a critical role in building strong and stable communities. The "Build Day" sessions often start with a staff member giving the organization overview and noting that Habitat is a "hand up" and not a "hand out". Families are required to put in hundreds of hours of "sweat equity" and training, among other requirements, before getting the opportunity to own one of the homes.
Spencer employees have spent decades visiting various Habitat chapters in New Jersey, spending days with the crew and helping them build some of the homes. In addition to its work with Habitat, Spencer also runs a variety of programs that help community members, of all different income levels, achieve homeownership. For more information on these programs and more, please visit spencersavings.com.