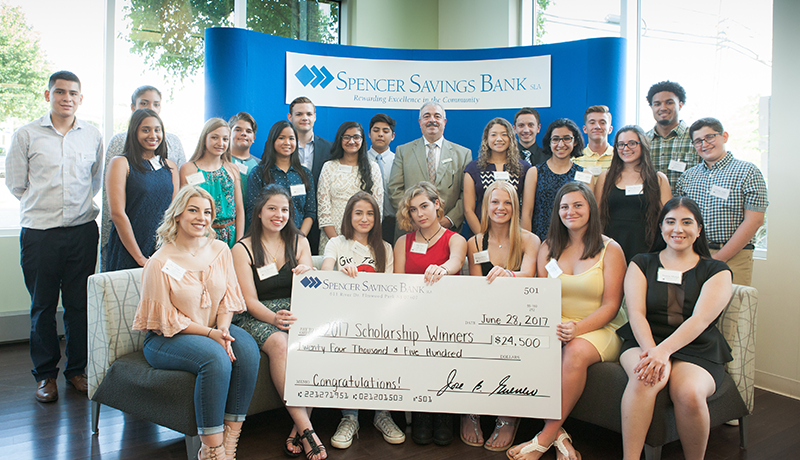 Spencer Savings Bank, a community bank headquartered in Elmwood Park, announced 32 students who were awarded scholarships and Coverdell Education Savings Accounts (CESAs). The Spencer Scholarship Program emphasizes the bank's commitment to the community, and the importance of achieving higher learning in today's environment. A total of $24,500 was awarded to these young scholars.
Students in each town across the Spencer footprint were eligible to apply for the scholarship program. Each school was responsible for the selection of the winners, who were judged based on their GPA, a history of community service or involvement and their potential interest in the fields of business or finance. High school recipients each received a $1,000 award and graduating middle school students were awarded with $500 CESA accounts, to encourage further savings for the future.
"Education plays a pivotal role to the growth and empowerment of our children who are the future of our communities," said José B. Guerrero, Chairman, President and Chief Executive Officer of Spencer Savings Bank. "We pride ourselves on our local roots as a community bank and one of the most prominent aspects of our mission and purpose in our communities is to support our youth's academic pursuits. We're very proud of these scholars. Congratulations to the class of 2017!"
Since its inception in 2002, the Spencer Scholarship Program has awarded more than $360,000 in scholarships to students within the bank's local service areas. In addition to the scholarship program, Spencer also hosts various financial education programs in local schools throughout the year.
High School scholarship recipients include: Daniel Loukachouk, Clifton High School; Shania Murga, Cranford High School; Ana Cirne, Alexander Hamilton Preparatory Academy; Eugene Figueroa, Elmwood Park Memorial High School; Rashawn Williams, Ewing High School; Rajvi Jani, Garfield High School; Joseph M. Tyrie, Arthur L. Johnson High School; Lilian Maltese, Lodi High School; Christian Campana, Lyndhurst High School; Bridget Betley, West Essex Regional High School; Christopher Conte, Nutley High School; Kyleigh Bruch, Saddle Brook High School; Frances Ranola, Union Senior High School; Alex Bednarczyk, Parsippany Hills High School; Danny Meiss, Wallington High School; Olivia Anderle, Wayne Hills High School; Valentina Vega, Wood Ridge Jr/Sr High School.
Middle School scholarship recipients include: Dane Mocera, Woodrow Wilson Middle School; Patrick Benderoth, Hillside Avenue School; Adely Guevara, Mabel G Holmes #5; Diana Kucevic, Memorial Middle School; Josmarie Torres, Garfield Middle School; Renee Snedeker, Lincoln Middle School; Kashmala Arif, Thomas Jefferson Middle School; Mariem Ahmad, Lincoln Middle School; George Ashji, West Essex Regional School; Brandon Borja, John H. Walker Middle School; Rohan Sheth, Parsippany Central Middle School; Valentina Loiero, Saddle Brooke Middle School; Magdalena Lejawa, Wallington Jr./Sr. High School; Victoria Galloza, Schuyler-Colfax Middle School; Angelina LoPresti, Wood Ridge Jr./Sr. High School.