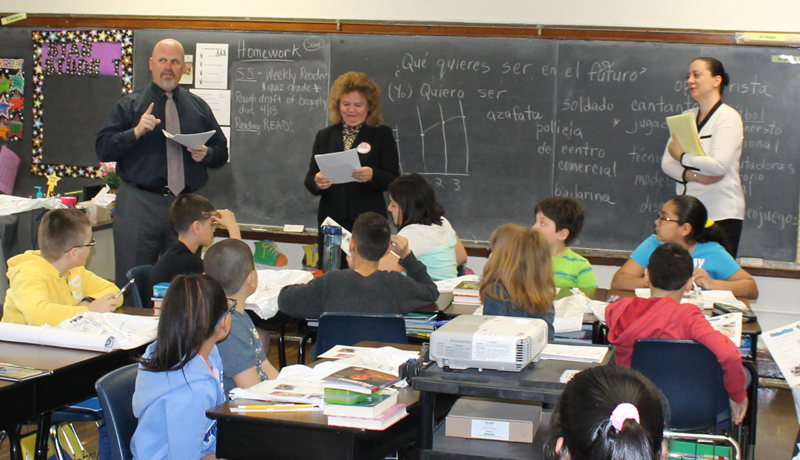 Part of Spencer Savings Bank's mission to help the communities it serves focuses on promoting financial literacy. On Tuesday April 14th, members of the Spencer team held a workshop for students of Clifton School #8, in recognition of National Teach Children to Save Day.
As part of National Financial Literacy Month, April 24th marks the official Teach Children to Save Day—a nationwide program sponsored by the American Bankers Association and organized by banking volunteers to help younger generations start saving early in life. Since 1997, more than 177,000 banking professionals have helped over 6 million students learn about the importance of saving.
Speaking with a group of forty 4th graders, Spencer Savings Bank employees explored a wide range of topics, beginning with the basics of what a bank is and why it's important to have a bank account. They reviewed interest yields and how to grow your money, as well as how banks collect money with loans and interest rates.
Another topic of discussion was distinguishing between items that are "needs" versus "wants", and students learned to create a budget sheet to help organize their income to help pay for these items. Money Newsletters and Money Saving Tips Guides were distributed for the students to review with their parents. Spencer rulers and piggy bank giveaways were also distributed to each student.
Spencer's Clifton Branch Managers Ed Kurbansade and Halina Qasem, along with Anita Guerrero and Shaniece Vincent from the Marketing Department, led the day's presentations.
"Making sure our children grow up financially literate is something we all need to take very seriously as a community and a society," said Mr. Kurbansade. "It's our job to make sure these students have the right resources provided to them to help them learn the fundamentals of money management. It has never been more important to educate our youngest generations on the need for proper budgeting and saving."