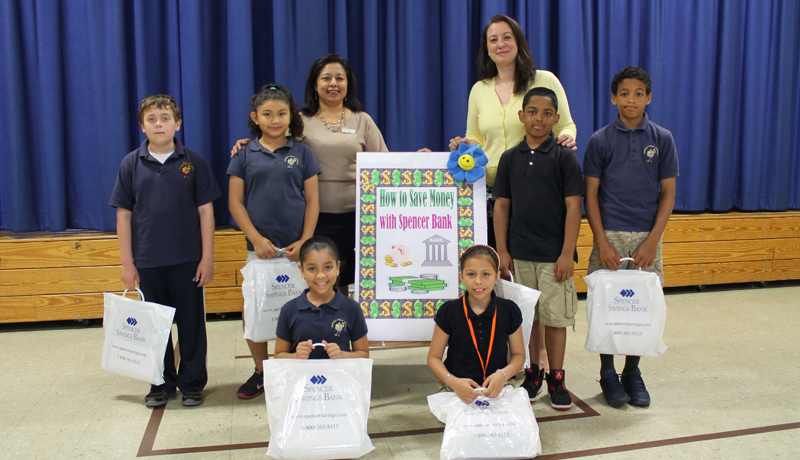 Spencer Savings Bank continued their commitment to increasing financial literacy with their May 15th Teach Children to Save Day event at Roosevelt School #7 in Garfield. Members of the Spencer team held a workshop for students to provide them a banker's perspective on the most pertinent topics for helping them succeed financially.
As part of National Financial Literacy Month, April 24th marks the official Teach Children to Save Day – a nationwide program sponsored by the American Bankers Association and organized by banking volunteers to help younger generations start early in life. Since 1997, more than 177,000 banking professionals have helped over 6 million students learn about the importance of saving.
Spencer Savings Bank employees spoke with nearly 75 fourth grade students about the basics of banking, distinguishing between "needs" versus "wants", and creating a budget to help organize proper spending. Money Newsletters and Money Saving Tips Guides were distributed for the students to review with their parents. As a memento of the day, Spencer gave each student a writing set consisting of a pencil pouch, pencil, eraser and ruler.
Spencer's Garfield Branch Manager, Teresa Noa, along with Anita Guerrero from the Marketing Department, led the day's presentations.
"These children are our future, and it's important to help teach them lessons on money management so that they grow up to be financially responsible adults," said Ms. Noa. "It's one of the most important things we can do. It's never too early to start planting the seed for a strong foundation in this area."