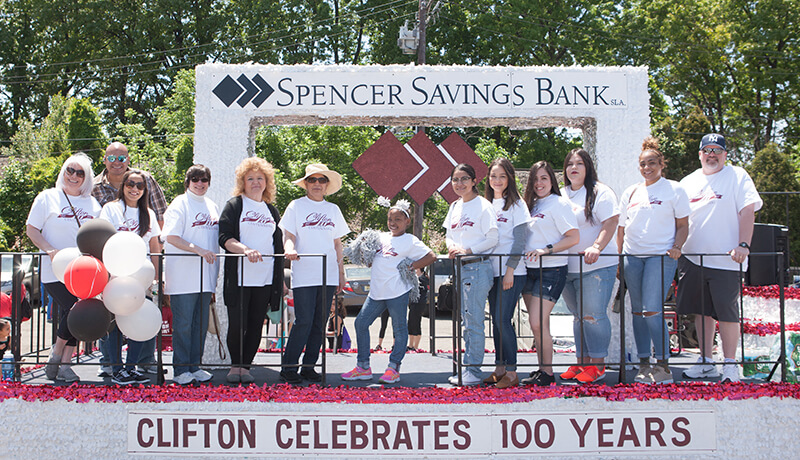 Spencer Savings Bank was proud to have sponsored and participated in the City of Clifton's Centennial Parade in celebration of the city's 100-year mark since its establishment.
The Centennial Parade took place this past weekend on Sunday May 21st at 2pm, spanning from its beginning at Clifton and Colfax Avenues to its grand finale at Main Memorial Park.
A group of Spencer Savings Bank employees and family members attended and participated in the parade with a float. With a total of 33 floats, 12 bands and an estimated 2,000 participants including city baseball teams, military veterans, scouting and nonprofit organizations parading through the streets of Clifton – it was a scene that was difficult to miss.
"Community comes first," said José B. Guerrero, Spencer Savings Bank Chairman, President and Chief Executive Officer, "which is why we continually aim to support our surrounding cities, wider communities and the people we service every day. We are honored to play an active role in the City of Clifton's centennial celebrations and pay tribute to the city's 100 years of growth and success."
The centennial celebrations will continue through the summer with a series of local events. Spencer Savings Bank employees will see everyone next for the opening night of the Summer Concert Series on Wednesday July 5th at Woodrow Wilson Middle School. The concert series will be held every Wednesday night in July and August.
For more information on the City of Clifton's centennial celebrations visit the Clifton Facebook page at www.facebook.com/CelebrateCliftons100th