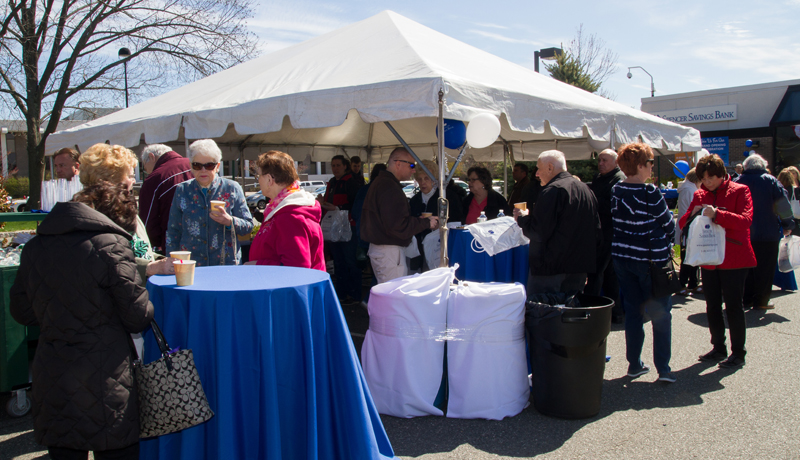 Spencer Savings Bank celebrated the official opening of its newest branch in Parsippany, NJ with a grand opening event last Saturday, April 25. A few hundred attendees joined the grand opening celebration throughout the day. This new location marks the twentieth branch in the region for Spencer and the first branch in Morris County for the bank.
"Our number one priority has always been providing customers with the utmost satisfaction in customer service," said Afroza Patel, Parsipanny Branch Manager. Patel, a dedicated banking professional with over 10 years of experience, will continue to lead Spencer's efforts to serve the Parsippany area. "We really look forward to making connections with the Parsippany community and local businesses, as well as further support local charitable causes."
The grand opening event included plenty of promotional offers, iPad raffles, giveaways, and a free catered breakfast and lunch for all visitors. There were also attractions for kids, including a face painting clown, a balloon animal making clown, and Foobie the Robot, who is quite the robotic comedian. WDHA was on location with music and giveaways of their own.
Celebrations will continue with a number of attractive grand opening specials, from CD and IRA specials to limited time home equity loan and mortgage rates and offers, running through May 23rd, only available at the Parsipanny branch.
"Spencer Savings Bank has the same services the big banks offer, but with a level of personal attention that can't be matched," Guerrero says. "With their passion and deep community ties, Ms. Patel and her talented team will be indispensable to anyone seeking a more personal bank experience."
Located at 1699 Littleton Road in Parsippany, Spencer has been operating the branch since early December 2014 when it completed the acquisition of NJM Bank. Visit spencersavings.com for more information.