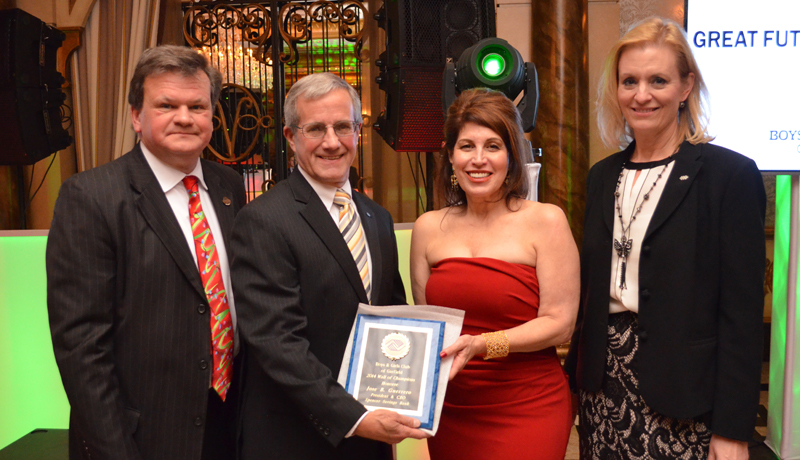 The Boys and Gils Club of Garfield honored Spencer Savings Bank President, Chairman, and CEO José B. Guerrero in a special ceremony on December 10th. Mr. Guerrero was inducted into the Club's Wall of Champions, which recognizes those who exhibit a high level of community service and commitment.
Under Mr. Guerrero's leadership, Spencer Savings Bank has grown its assets to exceed $2.4 billion, with 20 branch locations throughout Northern NJ and a staff of over 225 employees. Its successful growth has helped Spencer to become an essential part of the community, offering a number of partnerships with locally based organizations.
This year's efforts have included scholarship awards, the sponsorship of an Eco-School Program in Garfield High School, financial literacy education for local students, sponsoring a community movie series, a Thanksgiving food drive, a holiday toy drive and several other local partnerships.
Over the course of his 35 years, Mr. Guerrero has risen through the ranks since starting in the bank's Internal Audit department in 1979. In 1995, he was appointed President & CEO, and then later named Chairman of the Board in 2005. He is also a member of the NJ Banker's Association.
Accepting the award on his behalf was First Executive Vice President and Chief Operating Officer Jane Allerman-Rey and Senior Vice President John Fitzpatrick. "Spencer Savings Bank remains committed to strengthening the communities we are so very proud to serve," said Allerman-Rey.
Spencer Savings Bank, a community bank headquartered in Elmwood Park, NJ, is well known for its charitable endeavors. Spencer has served the Garfield area since opening in 1939, and continues to give back through special programs and community events. Visit Spencersavings.com to learn more about their involvement in the Garfield community.