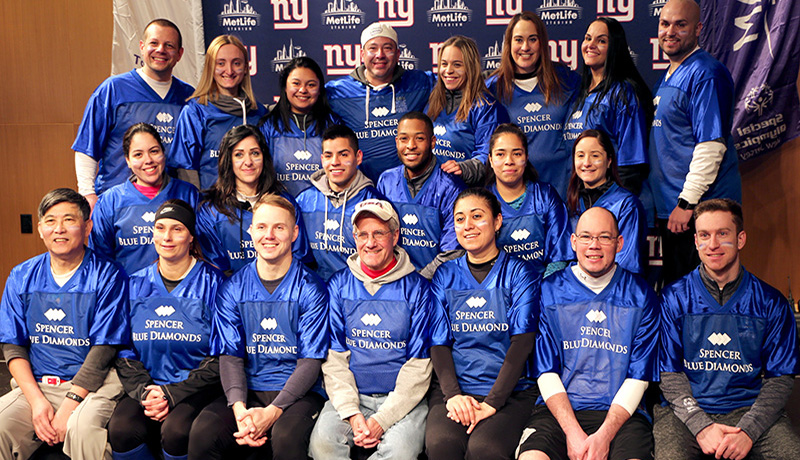 For the fifth straight year, Spencer Savings Bank placed among the top three fundraising teams in the New York Giants Snow Bowl benefitting Special Olympics New Jersey, raising $16,500 at the annual weekend-long flag football tournament.
The community bank headquartered in Elmwood Park, N.J. fielded a team of 20 employees – nicknamed the "Spencer Blue Diamonds" – for a flag football game at MetLife Stadium on Sunday, March 5t.  For two months leading up the event, fundraising efforts and generous donations from team members, employees and bank customers helped the team to raise $16,500 for the cause, landing the second overall highest team total in the 2017 Snow Bowl.
"The Snow Bowl is one of our favorite fundraising events of the year," said José B. Guerrero, Spencer Savings Bank Chairman, President and CEO. "To experience the grandeur of the MetLife Stadium while raising money for a truly dedicated charity is a winning combination."
Since its inception 11 years ago, the Snow Bowl has raised more than $2.4 million to help more than 25,000 Special Olympics New Jersey athletes train and compete free-of-charge, year-round, in 24 sports. Every $50 sends one athlete to the Fall Games. $250 provides uniforms for an entire basketball team, and $1,000 sends a floor hockey team to the State Tournament. Special Olympics New Jersey is rated four-stars, the highest ranking, by Charity Navigator.
Spencer Savings Bank extends a heartfelt thank you to the many customers, employees, and bank community members who lent their support and made such an impactful donation possible. To learn more about Spencer and its many community service initiatives, visit www.spencersavings.com.