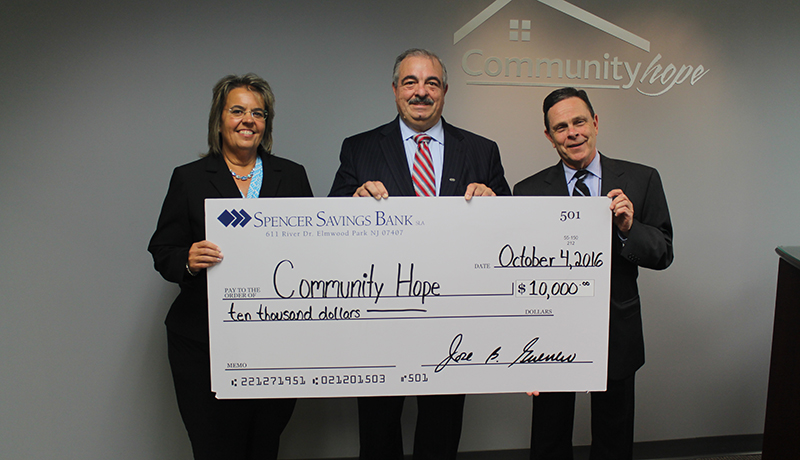 Spencer Savings Bank, a community bank headquartered in Elmwood Park, N.J., has made a $10,000 donation to Community Hope, a Parsippany, N.J.-based non-profit offering transitional housing and supportive services for veterans and their families.
This donation exemplifies Spencer's commitment to the communities it serves, and to charitable organizations that help local residents in vital ways. The bank has been partnering with Community Hope for nearly two decades.
"Giving back is a foundational value of Spencer Savings Bank," said José B. Guerrero, Spencer's Chairman, President and CEO. "Community Hope assists veterans with finding a new start, a mission that is exceedingly inspiring and uplifting. We are proud to help support their efforts."
Community Hope was founded in 1985 under the name Project Hope by mental health professionals and family members seeking to create a brighter future for those overcoming mental illness, addiction, homelessness and poverty. Today, the private non-profit is one of New Jersey's largest transitional housing providers.
In 2010, Community's Hope's 95-bed Hope for Veterans Program earned the Secretary's Award for Outstanding Achievement in Service to Homeless Veterans from the U.S. Department of Veterans Affairs. In 2015, the organization rescued 1,000 veterans and veteran families from homelessness, and served more than 220 individuals per day in its mental health recovery programs.
J. Michael Armstrong, Chief Executive Officer, represented Community Hope in accepting the donation from Jose Guerrero, Chairman, President & CEO and Allison Danchak, Senior Vice President & CRA Officer from Spencer Savings Bank.