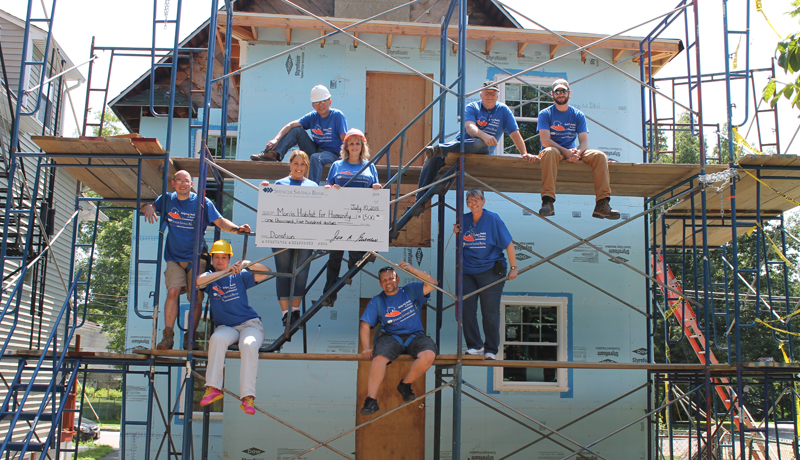 Spencer Savings Bank, a community bank headquartered in Elmwood Park, partnered with the Morris Habitat for Humanity last week by participating in a Build Day. A team of 8 Spencer employees and friends took part in the day's work on July 10th, which included light carpentry, ceiling construction and some work on the roof of a multi-family house in Morristown. Spencer Savings Bank also made a donation of $1,500 to the organization.
"This year we opened our doors for service in Morris County with the grand opening of our Parsippany branch in April. We are so excited to be doing business in Morris County and eager to do our part in helping families and communities thrive here," said José B. Guerrero, Chairman, President and CEO of Spencer Savings Bank. "Habitat for Humanity is one great organization where we can do just that. We've been affiliated with them for many years and are excited to be partnering up with the Morris County chapter now."
About Morris Habitat for Humanity:
Morris Habitat for Humanity is part of a global, nonprofit housing organization operated on Christian principles that seeks to put God's love into action by building homes, communities and hope. Morris Habitat for Humanity is dedicated to eliminating substandard housing locally and worldwide through constructing, rehabilitating and preserving homes; by advocating for fair and just housing policies; and by providing training and access to resources to help families improve their shelter conditions. Habitat for Humanity was founded on the conviction that every man, woman and child should have a simple, durable place to live in dignity and safety, and that decent shelter in decent communities should be a matter of conscience and action for all.