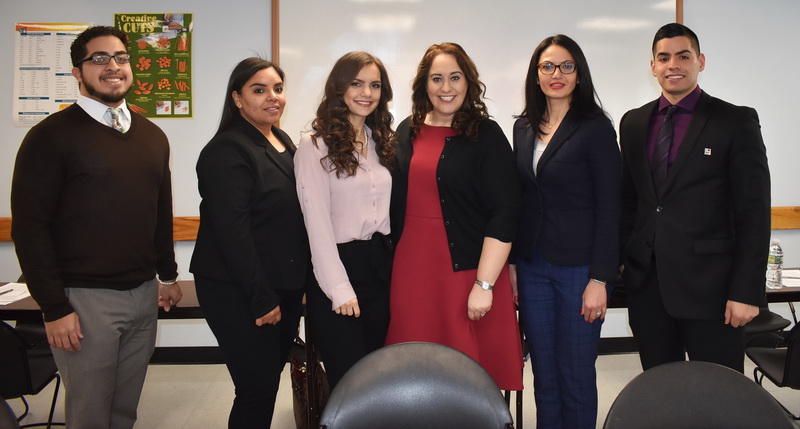 Spencer Savings Bank, a community bank headquartered in Elmwood Park, N.J., participated in a mock job fair with Eva's Village, a Paterson non-profit anti-poverty group.
Spencer employees were excited to visit Eva's Village on February 8th to support their Workforce Development program – designed to empower, mentor and prepare their clients with the knowledge and tools necessary to successfully find a job. The Spencer volunteers worked one-on-one with participants seeking to re-enter the workforce after a time of personal struggle and setback, coaching them for success. Helpful tips on resume writing were provided, as well as opportunities for participants to practice their interview skills and receive constructive feedback from real employers.
"Our bank and employees are stewards of change. We were honored to, once again, participate in this exceptional program that helps our community members get back on their feet after experiencing a hardship in their life," said José B. Guerrero, Chairman, President and CEO of Spencer. "Everybody deserves a second chance. Spencer is always proud to partner with Eva's Village and help create opportunities in our community, especially for those who find themselves undergoing a difficult phase in life and are trying to better themselves. "
Spencer is a longtime friend and supporter of Eva's Village. The bank partners up annually with the nonprofit to assist them on several programs. They donate and participate in the Fund-A-Meal program, where employees serve a hot meal to hundreds of guests, and in their "Behind the Seams" fashion show, where employees work on the planning committee and help raise hundreds of thousands of dollars.
For more information on Eva's Village and how you can assist them with their life-changing programs visit www.evasvillage.org. Visit Spencer Savings Bank to learn all about the many community-service initiatives the bank is currently involved with at www.spencersavings.com.