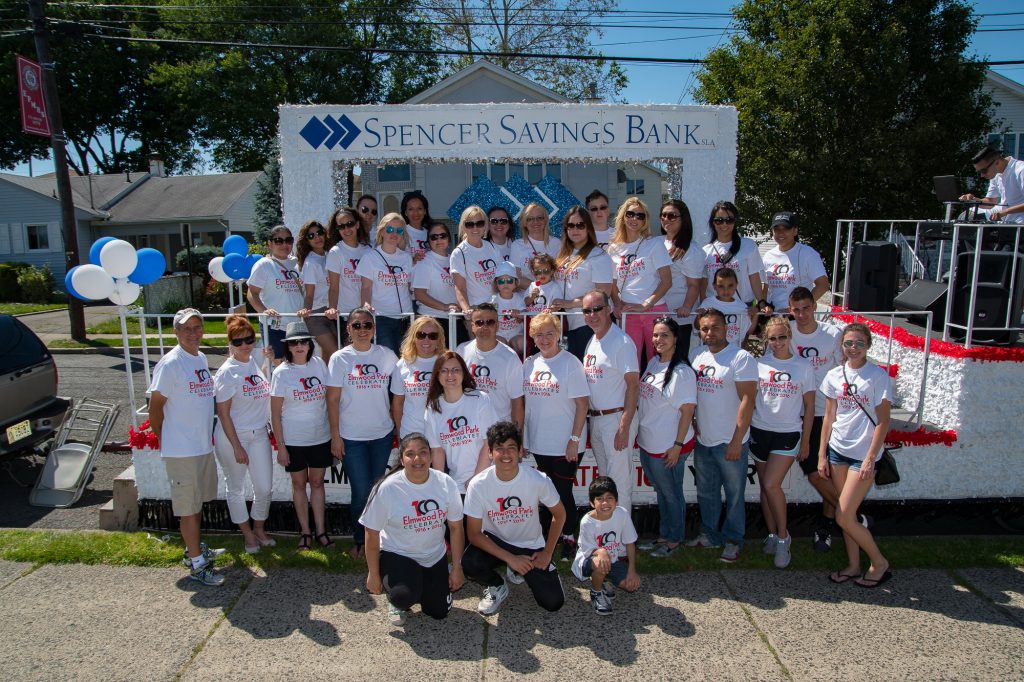 Elmwood Park, N.J. (June 29, 2016) – Spencer Savings Bank was a proud sponsor of the Elmwood Park Centennial Celebration June 11-12.
Thousands of residents attended the two-day festival honoring the borough's 100-year mark, including 40 Spencer employees and their families, many of whom also marched with the Spencer float in the Centennial Parade from Elmwood Park Memorial High School to Pine Street. The parade featured an array of local heroes, community figures and entertainers, along with antique cars, fire trucks, horses and more. Local acts, Free Shrimp, The Bucket List and Carnaby Street each performed afterward.
"This was an event that doesn't happen year after year," Councilman Joe Dombrowski said. "The many volunteers who worked long and hard to create and organize this parade and the many other Centennial festivities throughout the year have done an amazing job. It's because of them that our residents got to share in a piece of Elmwood Park history."
The celebration also saw a "Hometown Fair" bring music, food trucks, carnival rides, entertainers, street vendors and more to Boro Field on Market Street. Spencer employees invited festivalgoers to the Spencer booth for free prizes in the bank's well-known "Spin-to-Win" game. At night, a laser show mesmerized children and adults alike.
"Elmwood Park is a tight-knit community with family values and a proud history," said José B. Guerrero, Spencer Savings Bank Chairman, President and Chief Executive Officer. "Having our headquarters here, we are privileged to serve and support the wonderful people of Elmwood Park as their community bank."