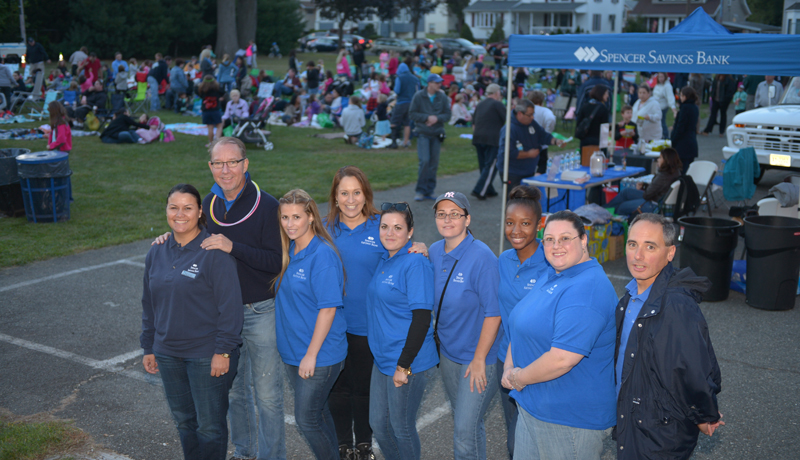 Spencer Savings Bank, a community bank headquartered in Elmwood Park, held its Movies Under the Stars event in Garwood on September 19. More than 300 residents gathered at the Garwood Family Center Y Field for the event, which was co-hosted by the Westfield Area Y, the Borough of Garwood, and the Greater Westfield Area Chamber of Commerce. The evening's feature was the entertaining family film, "The Nut Job."
"Spencer Savings Bank was thrilled at the opportunity to hold our first event in Garwood, and by all accounts the night was a huge success," said Janel Bazih, AVP & Marketing Manager for Spencer. "We hope to have future opportunities to bring this great event back to the Garwood community."
The Garwood PBA was on hand serving up freshly popped popcorn, and there were healthy snacks available to the crowd, courtesy of Shoprite. Spencer employees provided beverages and glow sticks to the crowd, which illuminated the sky as night fell – and no one could miss the Good Humor ice cream truck.
In anticipation of the feature film, residents then settled in for the main event. "The Nut Job," which features the voice of comedic actor Will Arnett, follows a purple squirrel as he plots an enormous nut-store heist with the help of his rat-friend Buddy. As one might expect, this leads to a wild and hilarious adventure, with a few life lessons thrown in.
Along with the event held the same day in Elmwood Park, these were the last Movies Under the Stars screenings for 2014. The bank looks forward to another great season when the weather warms up again in 2015.