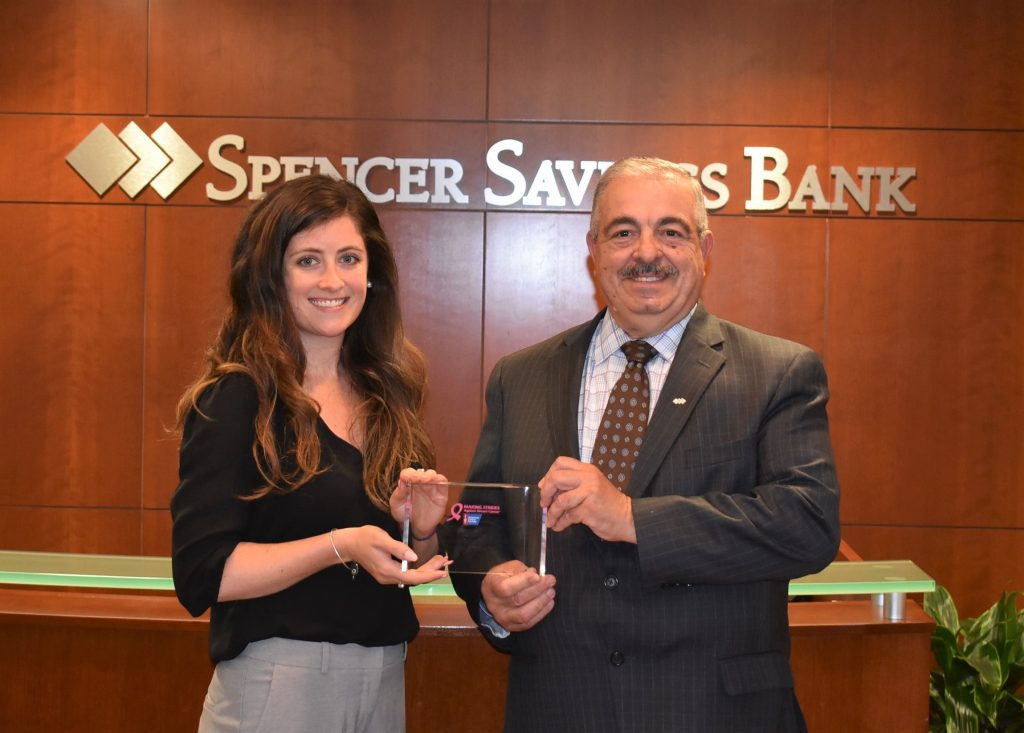 Spencer Savings Bank was recently honored by the American Cancer Society for its support of the Making Strides Against Breast Cancer program. The bank was a recent sponsor and received an award for its support.
"The American Cancer Society is on a mission to free the world from cancer. The work the team does is nothing short of remarkable, and we proudly support them," said Jose B. Guerrero, Spencer's Chairman, President and Chief Executive Officer. "Spencer has been a sponsor of the organization for many years now. It's amazing the great work that can be done when people and businesses, nationwide, work together for a common cause. This disease affects our community members on a daily basis. We join them, the American Cancer Society, and the nation in helping to fight it."
The Making Strides Against Breast Cancer walks raise awareness and funds to save lives from breast cancer. The events raise money to fund innovative research, provide free information and support, and help people reduce their breast cancer risk or finding it early when it's most treatable. This is the largest network of breast cancer awareness events in the nation. This year, it is projected, more than 1.4 million people will participate in an event and more than $60 million will be raised for the cause.
"In 2017, Making Strides of Ridgefield Park raised $450,000 and welcomed 7,000 participants," stated Amy Guthrie, Community Development Manager for the American Cancer Society's Northeast Region. "It is because of companies like Spencer that we're able to bring patients access to care every year and we're so thankful for their involvement and support in the fight against breast cancer."