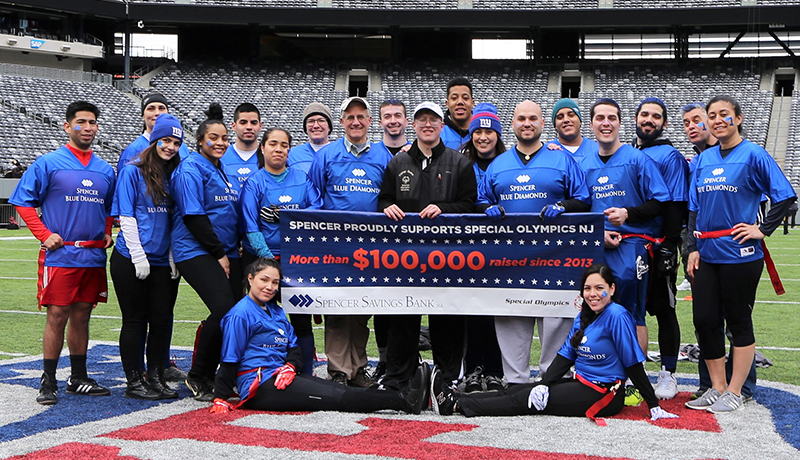 Spencer Savings Bank has raised over $100,000 for Special Olympics New Jersey, with its 7th year New York Football Giants Snowbowl participation. Special Olympics is celebrating its 50th Anniversary this year, and Spencer was proud to mark their participation in this fundraiser which supports sports competition and training for over 25,000 Special Olympics New Jersey athletes.
Fundraising efforts were strong again this year. The bank continued its top three streak, raising more than $17,500 this year and landing the second overall highest team total. Employees were hard at work hosting a variety of fundraisers that took place at the bank for over two months leading up to the event. Generous donations poured in from employees, family, friends, and customers.
The fundraising ended on Sunday, March 25th when a team of almost 20 employees, coined the "Spencer Blue Diamonds", competed at the New York Football Giants Snow Bowl. Employees spent weeks practicing, as they prepared for the annual weekend-long flag football tournament, which consisted of three 30 minute games.
"We're so proud to have raised over $100,000 for Special Olympics New Jersey, and to be supporting them for almost a decade. It has been a very rewarding experience for the entire bank," stated José B. Guerrero, Chairman, President & Chief Executive Officer of Spencer Savings Bank. "This impactful donation was made possible solely through the efforts of our customers, employees, family, friends and community members. We sincerely thank each of you for your unwavering support of this organization. Together we stand with you, in awe of the incredible work that Special Olympics does in improving the lives of people with intellectual disabilities. Happy 50th Anniversary and many more!"
Since 1968, Special Olympics has been changing attitudes about the talents of people with intellectual disabilities and creating a more inclusive world. Starting in July, the global Special Olympics celebrations will inspire new generations to see the beauty, dignity and talent in each of us. To learn more about the organization and the anniversary celebration, visit www.specialolympics.org.