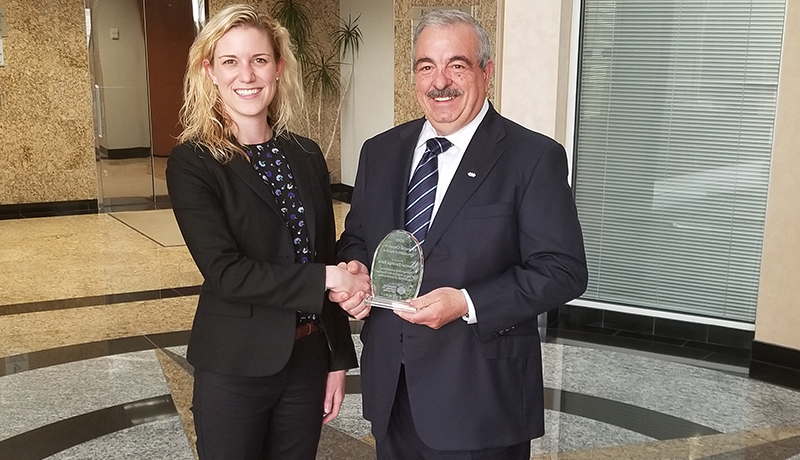 Spencer Savings Bank was honored with the 2018 Financial Capability Innovation Award presented by the nation's leading technology innovator, EVERFI, Inc. The award recognizes Spencer's significant efforts to improve the financial capability of Americans through unique digital learning initiatives.
"As a financial institution we understand the importance of proper money management and want to spread that knowledge. This award makes us especially proud and we are honored to be recognized for all the financial education we've provided to local students over the years," stated Jose B. Guerrero, Chairman, President and Chief Executive Officer. "Spencer strongly believes in the importance of teaching financial literacy to ensure our youngsters grow up to become financially stable adults. We're proud to lend our time and resources to schools to help make this happen. As a community bank, we remain committed to this cause and to supporting many other local organizations that improve our community."
Honorees were selected based on a set of criteria that included the scale and reach of their financial education initiatives, the duration of their commitment, and unique employee volunteering activities that supplement their programs.
"Each year, we honor institutions that are truly dedicated to going above and beyond in service to their communities," said Ray Martinez, EVERFI President of Financial Education. "The Financial Capability Innovation Awards have given us the opportunity to share and celebrate the tremendous investment these institutions are making and continue to make in the communities where they live, work, and serve. For EVERFI, our time here reminds us just how critical the role innovation continues to play in empowering Americans to pursue economic opportunity and achieve financial security for themselves, their families, and their community."
Spencer is committed to providing students with the skills and knowledge needed to successfully navigate the increasingly complex financial world we live in. Spencer has partnered with EVERFI to bring financial literacy to local students at no cost to schools or taxpayers and has reached over four thousand students since 2012. The web-based program uses the latest in simulation and gaming technologies to bring complex financial concepts to life for today's digital generation.