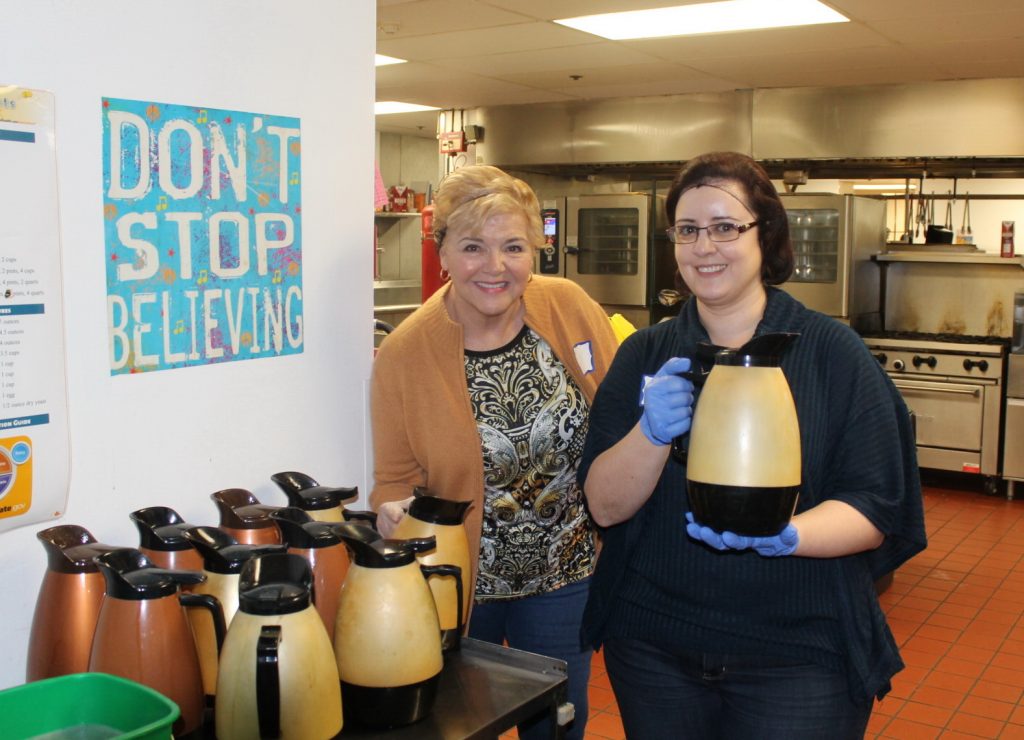 Spencer Savings Bank participated for a seventh consecutive year in Eva's Village Fund-A-Meal program. On Nov. 20, six employees volunteered to serve coffee and to clean up after a hot meal was served to nearly 300 guests in the Eva's Community Kitchen.
Spencer's Silver-Level Fund-A-Meal sponsorship included a $2,500 donation to support the comprehensive network of services Eva's Village offers to community members who are struggling with hunger and poverty, substance use disorders, and mental illness. Eva's 20 programs have offered stability and a helping hand to thousands of men, women, and children each year since 1982.
Spencer's volunteers toured the Eva's Village facilities, which span a three-block radius in downtown Paterson, and provide vital community programs including Eva's Community Kitchen, Eva's Village Apartments, emergency overnight shelters for men and women, transitional housing, inpatient and outpatient substance use disorders treatment, addiction recovery, free medical and dental health services, child care and education, workforce development and more.
"The volunteers and staff at Eva's Village are a special group of people; they are doing truly honorable work that benefits so many community members who might not receive the help otherwise," said Janel Bazih, VP & Marketing Manager at Spencer. "As a community bank, it is in the core of our purpose to support their efforts. We are very glad to continue this annual tradition as well as increase our donation for this year."
Eva's Village Fund-A-Meal program is a corporate sponsorship and team building opportunity supporting Eva's Village programs to provide a daily lunch, as well as breakfast each weekday, to those in need in the Paterson community. Spencer's Silver-Level support underwrites the 1,300 meals served each day at Eva's Village to guests in its Community Kitchen and to clients in Eva's shelters and residential treatment programs. Last year, Eva's Community Kitchen prepared and served nearly 500,000 meals. Spencer has been a Fund-A-Meal sponsor since 2011.
More about Eva's Village
Founded by Msgr. Vincent E. Puma in 1982, Eva's Kitchen began by serving 30 meals a day to feed the hungry in Paterson. In response to the related issues of poverty, addiction, mental illness and homelessness, programs and services grew out of the original soup kitchen to address the root causes as well as the effects of homelessness and poverty. Today, Eva's Village, a non-profit, comprehensive, social service organization, offers 20 programs that address needs in the community for food and shelter, recovery and medical services, and education and job training, with the goal to help those in need move toward stability and independence.