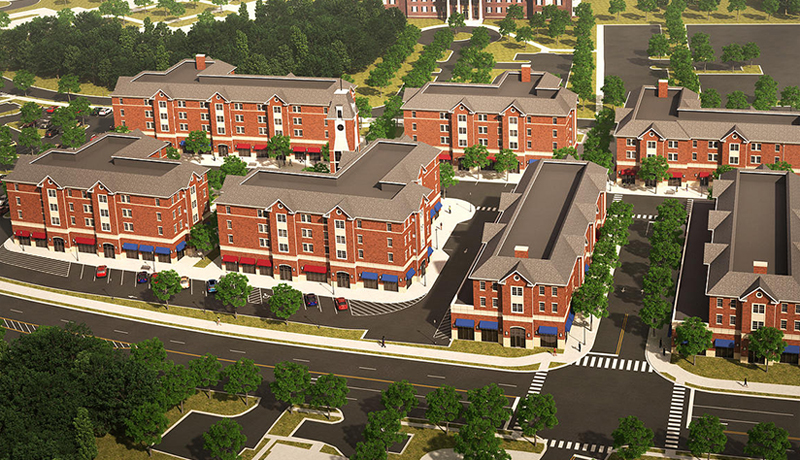 Spencer Savings Bank, a community bank headquartered in Elmwood Park, NJ, is pleased to announce their new Financial Center, opening this summer in the newly constructed Campus Town at The College of New Jersey in Ewing, NJ. This will mark the 21st location for Spencer Savings Bank and the first branch in Mercer County. Located directly on Route 31, TCNJ's Campus Town will have more than 280,000 square feet of retail and collegiate housing space.
The Spencer Savings Bank Financial Center will feature interactive teller machines, which allow customers to complete transactions using a remote-controlled ATM-based kiosk while being virtually guided by an off-site banker. This new technology made its first appearance in the banking industry late last year and marks a new era in technology-enhanced banking. In addition to these units, the branch will also be staffed with on-site bank representatives who can assist customers with opening new accounts, answering questions, completing loan applications, loan closings and much more. There will also be a 24-hour ATM machine available.
"Our new Financial Center will mark an important moment for Spencer Savings Bank, where we address the rapidly evolving needs of the modern customer," says José B. Guerrero, Chairman, President and Chief Executive Officer of Spencer Savings Bank. "It's always been our mission to proactively meet the needs of those we serve. This new addition exemplifies that commitment and we look forward to helping those Mercer County residents meet their financial goals."
Campus Town, a two-building $120 million development, will accommodate over 446 multi-person apartment units and a number of vendors in its ground-floor retail space. Vendors will include Verizon Wireless, Panera Bread, Mexican Mariachi Grill, Yummy Sushi, Piccolo Trattoria, RedBerry Frozen Yogurt, Starbucks and Barnes and Nobles.
"It's got wonderful amenities for us obviously, but it will also be an opportunity for the campus to engage with the larger community because all of the retail is for everybody," TCNJ President R. Barbara Gitenstein said. While construction is currently ahead of schedule, Campus Town is slated to be ready for this fall's entering class.
Spencer Savings Bank is looking forward to extending their banking community and serving new customers in the area with all of their banking needs.