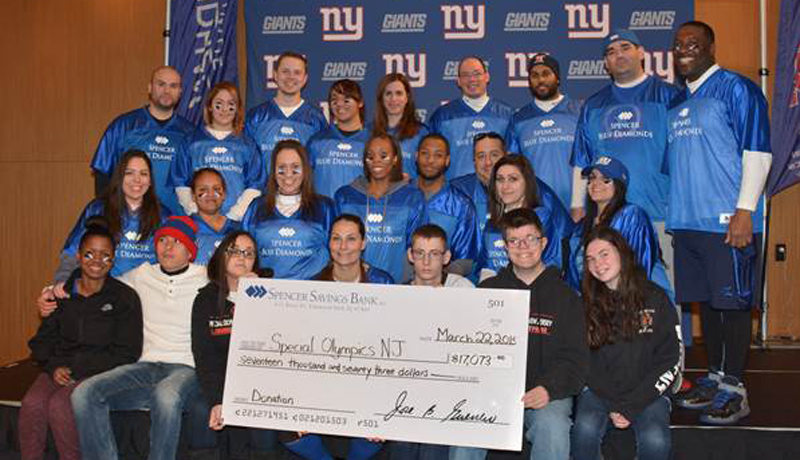 Spencer Savings Bank, a community bank headquartered in Elmwood Park, N.J., once again helped lead the charge at the 9th Annual New York Giants Snow Bowl at MetLife Stadium on Sunday March 22nd. The event, a weekend-long flag football tournament, raises funds for the athletes of Special Olympics New Jersey. Spencer Savings Bank took second place overall in this year's fundraiser by amassing $17,073. In total, more than $500,000 was raised at this event, all of which helps the organization to provide year-round training and competition opportunities in 24 sports, including flag football, for the more than 25,000 New Jersey athletes, completely free-of-charge.
"Each and every year, Special Olympics New Jersey continues to do an amazing job with this event," says Spencer Savings Bank Chairman, President and CEO José B. Guerrero. "The work Special Olympics New Jersey does for our community members is truly invaluable. We are thrilled to be able to continue to support this initiative."
The "Spencer Blue Diamonds" team was comprised of 19 members who competed in the Co-Ed Division of the Flag Football event, as well as a general manager and two team coaches. The tournament included three 30-minute games, and was by all accounts an enjoyable culmination of the team's record-setting efforts to raise funds for the organization. The Spencer Blue Diamonds played the best football in Spencer history by winning their first game since becoming involved with the event, and scored an overall total of four touchdowns with two interceptions.
"It's always terrific to see such a positive and powerful turnout for this event from our banking community," says Janel Bazih, VP and Marketing Manager of Spencer Savings Bank. "Thank you to everyone who contributed to help make this one of the most successful years yet."
Over the course of 9 years, the Snow Bowl has raised more than $1.8 million, all of which directly benefits the athletes of Special Olympics New Jersey. This year marked Spencer's fourth straight year of participation. Spencer's donation was made possible by the many customers, employees, and bank community members who lent their support.