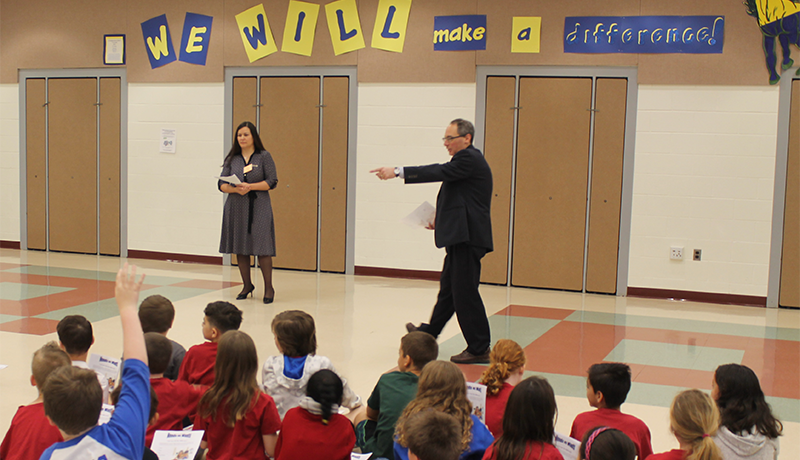 Spencer Savings Bank taught the basics of saving money to nearly 50 third-grade students at Lincoln School in Garwood, N.J. on Friday, April 28, 2017.
As part of April's National Financial Literacy Month, Spencer's hour-long visit with Lincoln School's 3rd graders demonstrated the New Jersey bank's commitment to the futures of the communities it serves, and helping the future by providing savings accounts for children.
"We truly believe it's never too early to begin planning for the future," said Marta Alexandre, Spencer's Garwood Branch Manager. "After the impact we had on these students when we participated in last April's Teach Children to Save the Day event, it made the importance of teaching sound saving habits to youth all the more evident. We're proud to continue providing students with the knowledge they need for financial success in the future."
Alexandre and colleagues Vincent Spada, Cranford Branch Manager, and Anita Guerrero, Assistant Vice President of Marketing, led the day's presentations. The curriculum covered everything from creating a budget to distinguishing "needs" versus "wants," with Money Newsletters and Money Saving Tips Guides distributed to the students. As a memento, Spencer also gave each student piggy banks to help kick off their commitment to become lifelong savers.
A nationwide program sponsored by the American Bankers Association and organized by banking volunteers, Teach Children to Save the Day has seen more than 177,000 banking professionals across the U.S. reach more than 6 million students since 1997. Visiting classrooms, youth centers and after-school programs, bankers use their real-world knowledge and professional skills to encourage young people to start young, and save more.