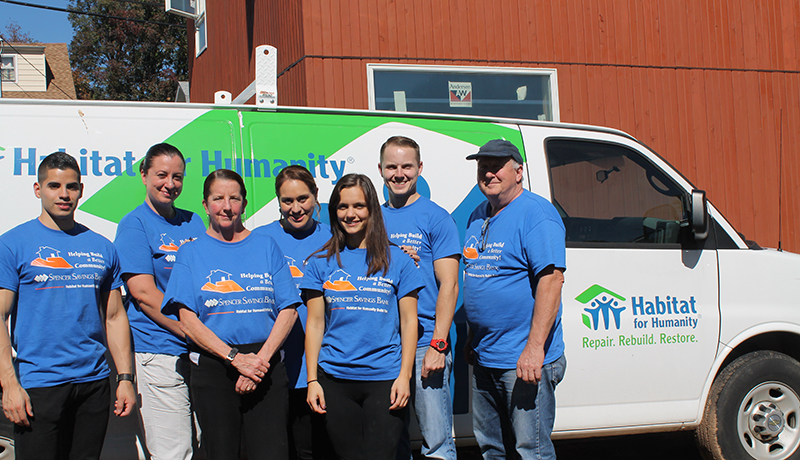 Spencer Savings Bank, a community bank headquartered in Elmwood Park, N.J., partnered with Habitat for Humanity of Bergen County for the third consecutive year, this time aiding a Build Day in Bergenfield, N.J. In addition, a $1,000 donation was made to the organization.
On October 7, Spencer sent a team of seven employees to the job site at 110 Bergen Avenue, where they helped hang drywall for a three-bedroom, single-family home. The volunteer efforts helped future homeowners Carlos and Geovana Pimentel move one step closer to their dream of homeownership. The Pimentels currently live in Elmwood Park, N.J. with their two children, ages 4 and 7.
Thanks to a large grant from Samsung Electronics America, the Pimentels' new home will be Energy Star certified, meaning it is built to enhanced energy and environmental standards. The home will feature solar panels, and will be insulated with blue jean insulation made from recycled denim donated by Cotton On USA.
"This home symbolizes a bright future in so many ways," said José B. Guerrero, Chairman, President and CEO of Spencer Savings Bank. "It marks a major life milestone for a deserving local family, while exemplifying the power of partnership and the value of green design."
Spencer has a long history of involvement with Habitat for Humanity at the regional level, including nine straight years in Paterson Habitat's Corporate Challenge, a three-week event that combines volunteering with fundraising. The Spencer employees who participated in the recent Bergenfield Build Day were proud to get involved, and enthusiastic about learning construction techniques during a day of challenging but highly rewarding work.
Spencer Savings Bank will be recognized in a Home Dedication Ceremony in early 2017, when the Pimentels will receive their keys.