Real Retirement Savings
See your future come into focus with an IRA from Spencer.
An Individual Retirement Account, or IRA, is an ideal savings vehicle for retirement. Consider rolling over an IRA from another bank or consolidating 401K accounts. Then, see how easy it can be to manage your retirement portfolio with:
Guaranteed Rate of Return
Hassle-Free Paperwork
No-Fee Rollovers
Our IRA specialists are ready to handle everything for you. All you need to do is sign the paperwork. It's that easy!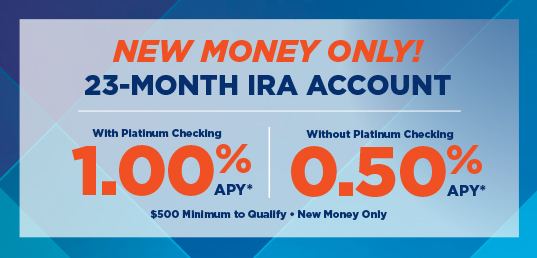 Stop in. Sign on. Save up. It's that easy.
Make an appointment with your local Financial Center or call, 1-800-363-8115.

OFFER VALID ON NEW MONEY ONLY. *APY = Annual Percentage Yield. APY is only valid on the 23-Month IRA CD and there is a $500 minimum deposit to open and obtain this APY. To qualify for the 1.00% APY, customer must open or maintain an existing Platinum Checking Account. There is no checking requirement to qualify for the 0.50% APY. Platinum Checking Account has no monthly service charge if a daily minimum balance of $2,500 is maintained. Otherwise, a $15 Monthly Service Fee will apply. Interest is compounded daily and credited monthly. APY assumes interest remains on deposit until maturity. Premium APYs not available on promotional IRAs. Spencer offers the convenience of automatic renewals. Upon maturity, this will renew into a 24-Month IRA if no action is taken by the customer. Fees may reduce earnings on account. A penalty will be imposed for premature withdrawals. If either you or we prevent renewal, interest will not accrue after final maturity. Account Closing: If the Platinum Checking Account is closed by the customer or Spencer within 23 months of the opening date of this IRA CD account, the promotional interest rate will be forfeited, and the account will be adjusted to reflect an interest rate of 0.50% for the full term. Please consult your tax advisor for tax deductible status. Rates are subject to change without notice and may be withdrawn at any time. This offer is only available to individuals living in New Jersey. APY is accurate as of 01/24/22.