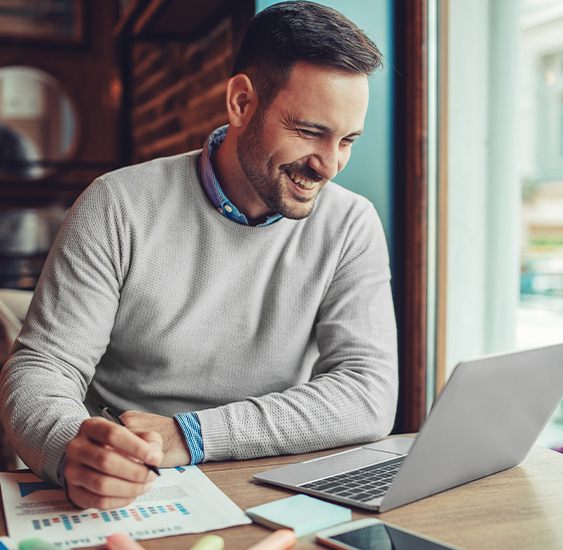 Earn higher returns with our BusinessEdge® Money Market Account.
Earn more on the money you've earned with our BusinessEdge® Money Market. It pays tiered rates on your money so higher balances earn higher returns. Plus, your funds are always available should you need them.
You'll enjoy benefits like these:
Earn  4.00% APY*  on balances of $10,000 or more
Tiered Interest Rates Based on Account Balance
Maximize cash reserves and maintain liquidity
Up to Six External Transfers per Cycle
Free Online Banking

*APY=Annual Percentage Yield. BusinessEdge Money Market is a variable rate, interest-bearing account with tiered interest rates as follow: Daily balances – below $5,000 – no interest earned, $5,000 – $9,999.99 – 0.25% APY, $10,000 or more – 3.25% APY. Recipients of this promotional offer will receive a 0.75% rate bump on balances of $10,000 or more, resulting in a promotional rate of 4.00% APY. Rates may change any time and after the account is opened. These APYs are accurate as of 9/01/2023. There is a $5,000 minimum to open this account. There is a monthly service charge of $15 if the daily minimum balance falls below $5,000 at any time during the statement cycle. Fees may reduce earnings on this account. Offer may be withdrawn at any time. Available to business entities that are physically located or licensed with the appropriate NJ or PA state or local governmental authority and operating with significant activities in NJ ("New Jersey Business"), or Bucks County, PA. This offer is only valid for 60 days from the date of receipt of this postcard. This postcard must be presented at the time of account opening to receive .25% rate bump. **New Money is defined as money not on deposit at Spencer Savings Bank.