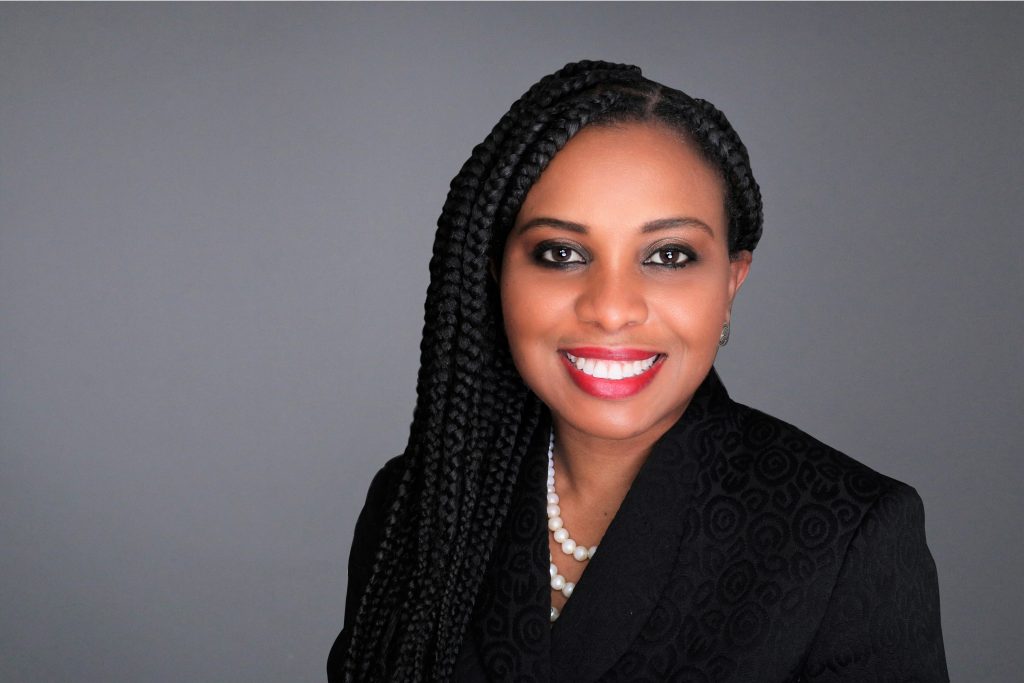 Kadean Bruce-Miller, Vice President/Commercial and Industrial Relationship Manager, is responsible for managing a sizeable and diverse C&I Portfolio within the bank's C&I Lending Department. A professional with a decade of bank management experience, Kadean is passionate about serving her clients well and prides herself on going above and beyond to help them find the best financial solutions banking has to offer.
A native of Jamaica, we recently sat down with Kadean for a chat, including her thoughts on her heritage and Black History Month.
What accomplishments are you most proud of?
I am proud of being a native of Jamaica. I am proud of the success I achieved there in my homeland. I worked at one of the Caribbean's largest investment banks, managing the corporate banking team in the investment arm. Prior to this, I also achieved success academically with an MBA in General Management, graduating with past honors. I'm also proud of my success here in the United States, my second home. Through my hard work and tenacity, I was able to come to another country and achieve success here professionally as well. Finally, and most importantly, I am proud of my family, I have a very supportive husband who is basically the wind beneath my wings and 2 awesome daughters.
What inspired you to get into a sales career in banking?
I love serving. Sales is essentially a career in service. I'm passionate about making people's lives easier and helping businesses succeed. If you work for a company that you believe in and has something special to offer, it sells itself. Our commercial and business customers constantly refer new customers to Spencer and are often thankful they switched over to us. At Spencer, we offer business customers a boutique-like experience and really cater to them extremely well. It's something they are oftentimes not used to at the larger national banks.
If you could pick a personal motto, what would it be?
My personal motto is similar to the Nora Roberts quote, which is "If you don't go after what you want, you'll never have it. If you don't ask, the answer is always no. If you don't step forward, you're always in the same place."
I have always lived my life as a go-getter, completely shunning complacency. Life will throw many obstacles and hurdles your way and constantly test you. This is a fact and just a part of life. It is important to accept this fact and get committed to never giving up, to achieve your personal and professional goals.
How do you enjoy spending your free time?
I enjoy spending time with my family and friends. I also enjoy travelling to experience new places and new cultures.
What does Black History Month mean to you?
It is a time to remember and honor the African American struggles and achievements throughout history and into modern day – and the rich range of experiences. Looking back, as a nation, we have come a long way and made a great amount of progress but looking forward there is still more to be done. During this time, I often reflect on all the accomplishments of our predecessors and the opportunities still yet in front of us. I also think a lot about the importance of representation.
How important is representation to you in the workforce and community?
Representation serves as an opportunity for minoritized people to find community support and validation. It is an important element in any organization and is a clearly defined expression that the organization embodies diversity, inclusion and welcomes all voices at the table. This is particularly crucial in this multicultural, multiracial, diverse, multifaceted society. Increasingly it becomes extremely vital to amplify the voices and share the stories of all.
I am truly blessed to work for an organization that fosters representation and am honored to be in a leadership position that allows me to be an example to other African American women, seeking to grow in corporate America, of what is possible. I choose not to lose sight of the opportunities I have been afforded and to work hard always because I am a representation of my community, and the younger generation is watching.
Do you have a favorite Black mentor?
My mentor happens to be my best friend of over 20 years. We became friends in college and have maintained a tight bond ever since. Dr. Karrian Hepburn-Malcolm is the current Managing Director of Guardian Media Ltd., one of the oldest media groups in the Caribbean region. She came from humble beginnings and through her consistency, dedication and commitment to working hard was able to achieve both academic and professional success. It has been very inspiring to witness.
What advice would you give to young Black professionals who are looking to get into your field?
First, never underestimate the power of networking, whether internal or external. It is a good way to get in touch and connect with coworkers from other departments, as well as vital to your career growth. It will increase your opportunities to make important contacts. Make it a priority to meet like-minded people in the same or similar industries who can also introduce you to others with similar goals. Sharing ideas and solutions with others can help build trust, position yourself as a thought leader in your field and ultimately help you achieve your career goals.