Our BusinessEdge® Money Market Accounts Offer Higher Returns On Funds You Can Access.
Our BusinessEdge Money Market Account pays tiered interest rates on your savings, so higher balances earn higher returns. Maximize cash reserves, maintain liquidity, and earn up to 3.25% APY* on balances of $10,000 or more. Increase your returns on your earned funds. Avoid a monthly fee of $15 with a minimum daily balance of $5,000.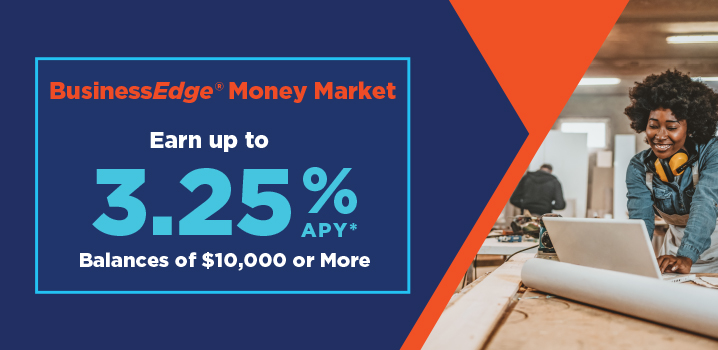 *APY=Annual Percentage Yield. BusinessEdge Money market is a variable rate, interest-bearing account with standard tiered interest rates as follow: Daily balances – below $5,000 – no interest earned, $5,000 – $9,999.99 – 0.25% APY, $10,000 or more – 3.25% APY. Rates may change any time and after the account is opened. This APY is accurate as of 8/21/2023. There is a $5,000 minimum to open this account. There is a monthly service charge of $15 if the daily minimum balance falls below $5,000 at any time during the statement cycle. Fees may reduce earnings on this account. Available to business entities that are physically located or licensed with the appropriate NJ or PA state or local government authority and operating with significant activities in NJ ("New Jersey Business"), or Bucks County, PA.