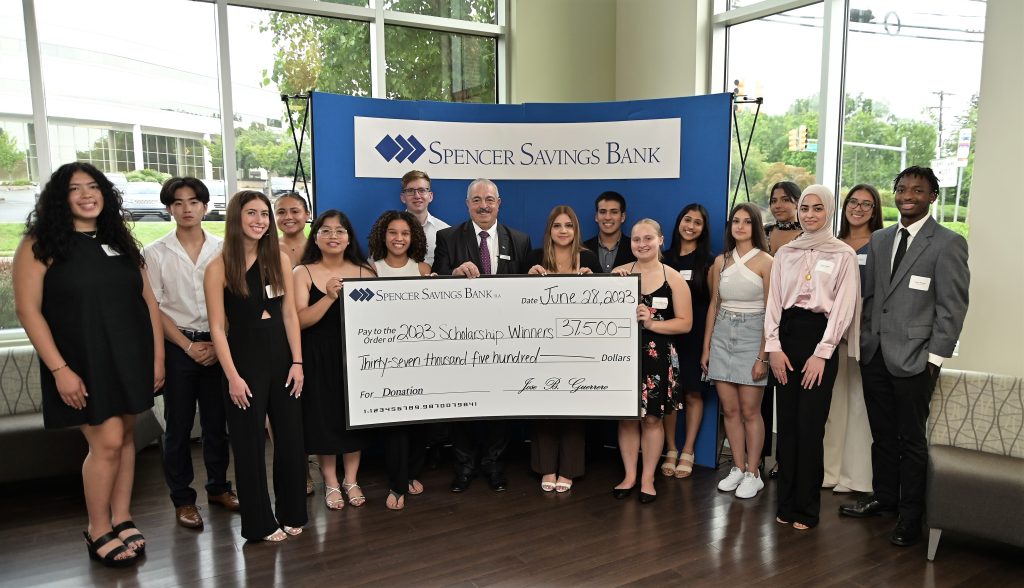 Spencer Savings Bank is pleased to announce that it has awarded $37,500 in scholarships to local high school graduates. The scholarships are bestowed yearly to exceptional students in New Jersey. The students each received a $1,500 scholarship for college tuition assistance. Since the commencement of the bank's scholarship program in 2002, over $600,000 in scholarships has been awarded to deserving students throughout the state.
"At Spencer, we have a resolute, unwavering commitment to helping our community members grow and providing them with a better tomorrow. Higher education enables personal development and promotes economic growth, among other benefits," stated Jose B. Guerrero, Spencer's Chairman and CEO. "We are proud to continue our annual scholarship program that supports this mission of ours. We celebrate these exceptional students for their hard work and commitment to excellence, and we wish them continued success. Congratulations Class of 2023!"
Students from various New Jersey school districts, within Spencer's market area (Bergen, Passaic, Union, Mercer, Morris and Essex counties), received scholarships. The bank entrusted the selection of the awardees to each school's guidance department and/or scholarship committee. Students received certificates and also attended, along with family members, a scholarship ceremony held at the Spencer Savings Bank financial center in Elmwood Park, NJ. Guests enjoyed meeting and connecting with the bank's executive and senior leadership team at the ceremony. Photos were taken with the bank team and a delicious Italian buffet dinner catered by the bank's business customer, La Cambusa Restaurant in Wyckoff, was served.
Congratulations to all the 2023 Spencer Savings Bank scholarship recipients listed below:
Bergen County: Valentina Alcivar Santos (Cliffside Park High School), Aaron Park (Cresskill High School), Stella Yako (Cresskill Northern Valley Regional High School), Yinshi Li (Dumont High School), Rosamargot Chang (Elmwood Park Memorial High School), Adrian Jaworski (Garfield High School), Ana Franco (Hackensack High School), Rebekah Kim (Leonia High School), Yulianna Walker-Caban (Lodi High School), Ana Gonzales (Lyndhurst High School), Krishi Shah (Paramus High School), Thomas McAleavy (Saddle Brook High School), Anna-Mariia Snihura (Wallington High School), Leonardo Ramirez (Wood-Ridge Jr/Sr High School)
Passaic County: Jenan Yousef (Clifton High School), Adrianna Gialanela (Wayne Hills High School)
Union County: Kendelle Menzo (Clark Arthur L. Johnson High School), Manuel De Luca (Cranford High School), Markenley Louis (Elizabeth Alexander Hamilton Preparatory Academy), Meya Alverna (Union High School), Juan Diego Lara (Westfield High School)
Essex County: Jenna Coubati (North Caldwell West Essex Regional High School), Veronica Cruz (Nutley High School)
Mercer County: David Williams (Ewing High School)
Morris County: Kajal Sukhadia (Parsippany Hills High School)