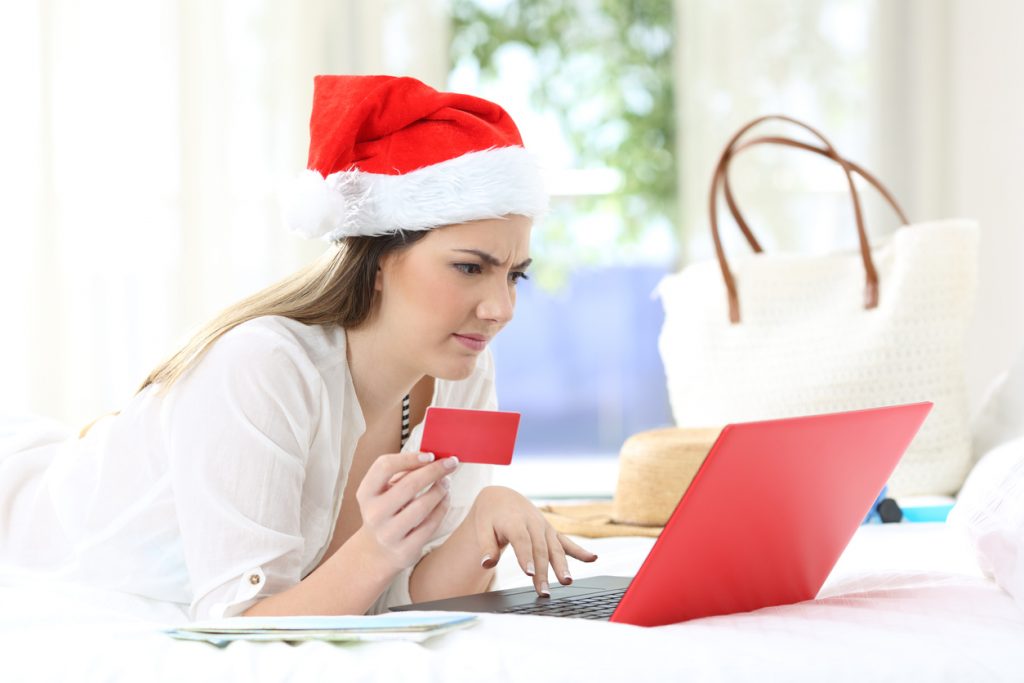 The holidays are here – a time where more money is spent, more travel and time off is taken and more festive events attended. Retail sales, this year, are projected to top last years at an estimated $682 billion. That's a lot of money circulating, and unfortunately scammers will be out looking for opportunities to take advantage. Every year the Business Better Bureau (BBB) puts out a list, the 12 Scams of Christmas, to warn consumers of some common schemes taking place during the holidays. Be sure to take some time and review the below information about fraud protection.
Look-Alike Websites – scammers will be looking for creative ways to download malware onto your computer. Be cautious of emails alerting you to special sales or deals. Once you click on the link and enter your private information, they'll have the opportunity to download the malware. Remember to protect yourself by always reviewing the sender's address (paying close attention to misspellings throughout the email), hover your mouse over links (without clicking) to see where they reroute. Only enter sensitive information into a website that begins with "https". The "s" informs you that it's secure and information entered is encrypted.
Social Media Gift Exchange – it entails solicitations received via social media asking you to make a gift purchase, promising several gifts in return. This is a pyramid scheme and actually illegal. Avoid this scam completely. Chances are you will receive no gift backs.
Grandparents Scams – Spencer recently reported on this scam. It involves targeting senior citizens and claiming a family member is in some type of trouble and asking for money. Read our previous blog article from October ("Consumer Alert: "Spoof" Scam Phone Calls On The Rise) for tips on how to protect yourself.
Temporary Holiday Jobs – companies are hiring for extra help and scammers may act like company representatives in hopes of getting access to your personal information. Apply for a job directly at the retailer's website or in person. Be cautious of anyone asking you to hand over personal information over the phone before meeting them for an interview as well as jobs asking you to make some type of payment before starting.
Free Gift Cards – scammers often disguised a company representatives will send out emails offering free gift cards. If you see one of these, do not open the email because it can be a phishing attempt. Don't click the links, mark the email as spam or junk instead. Do not share any personal information with them. If you click on a pop up ad, close the ads and also close the app or program you were using when you clicked. Clear your browser history, and take a closer look at your ad-blocker software.
E-Cards – some friends and family may send you an electronic holiday greeting. Make sure the emails are coming from them and not a scammer. Check if the sender's name is easily visible and be cautious if they are requiring you to enter personal information to open the card. Also, if you see an attachment that ends in "exe." do not open it. (This indicates an execute command and could download a virus on your computer.)
Fake Shipping Notifications – some scammers may send fake emails notifying you that a package has shipped. It's a great way to trick people since so many consumers are doing their holiday shopping online now. Most companies will provide you with tracking information that can be used to verify where your items are and identify the delivery company. You should not be required to pay any type of money to receive your package and delivery services do not need personal information to deliver your items.
Phony Charities – people are in the giving spirit this time of year. Scammers will be taking advantage of your generous heart, posing as charity representatives only to pocket your money for personal use. They will often create fake charities (look for sound-alike names). You may want to verify a charity, before making a donation, at give.org.
Letters from Santa – often times, scammers will create legitimate-looking websites, offering to send a child's letter out to Santa, to obtain unsuspecting parents personal information. Be on the lookout for emails offering special prices or packages for Santa letters. Check BBB.org to verify the legitimacy of these Santa companies.
Unusual Forms of Payment – be suspicious of anyone asking for a strange form of payment when completing your holiday shopping. Examples include a wire transfer, prepaid debit or gift card of third party. These unusual forms of payment can't be traced or undone.
Travel Scams – it's a popular time to travel and consumers are searching for great travel deals. Avoid travel scams by being cautious in opening up email offers (especially from an unknown sender). Never wire money to someone you don't know and be sure to ask for references before you pay. We all want a travel bargain – but without the headache.
Puppy Scams – it's also a popular time of year to add a new addition to the family. Before purchasing your new furry friend, make sure your source is legitimate. Be careful with buying a pet online. Check the website as there are many fake puppy photos circulating the web. Do an image search on google. Paste in the URL of your puppy photo and see if the photo appears on many sites. If it does, it's probably a scam. Also, research puppy prices. If the price you're being offered is too good to be true, it probably is. Be sure to use accredited breeders and rescue shelters to avoid any scams.
Fraud protection is very important, especially during this time of year. Keep an eye out on all your financial statements for any unrecognizable charges. If you become a victim, submit a report to BBB Scam Tracker and file a complaint with the FBI's Internet Crime Complaint Center (IC3).