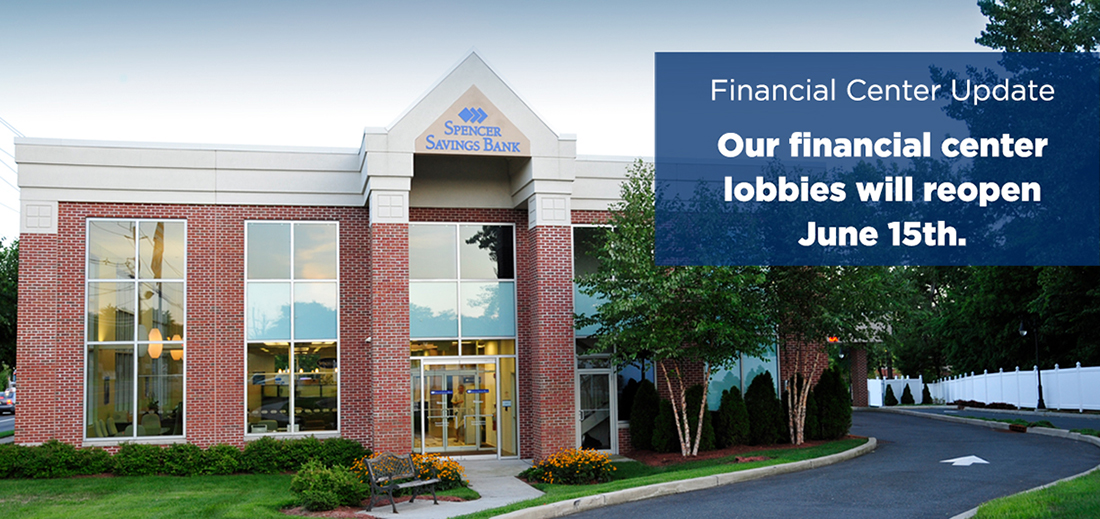 Committed To You. Welcome Back!
As we reopen our financial center lobby areas, we understand your pandemic concerns. Your safety and security will always be our top priority. Together, let's successfully navigate our new normal!
On June 15th, our financial centers will reopen with regularly scheduled hours for lobby and drive-up service. Spencer customers will now have full access to the lobby area of all our financial centers. We understand there are still concerns when visiting public spaces, such as these. To ease such concerns we have implemented a number of new safety practices and protocols that you will notice upon visiting our financial centers, all of which are designed to ensure a safe and secure environment for everyone that visits our bank. In accordance with CDC and state officials' recommendations, below are some of the enhanced health and safety procedures that Spencer has implemented to help mitigate spread of COVID-19.
Safety First
Capacity Limits – Each financial center will have a customer capacity limit noted at the entrance door. Customers are asked to wait outside or in their car when full capacity is reached.
Mask Wearing – Customers and employees must wear a mask or protective face covering when conducting business in the lobby area, except if a medical condition prohibits such usage.
Providing PPE – Our staff will provide personal protective equipment (masks and hand sanitizers) to customers if needed.
Signing In – A sign-in sheet will be maintained for customers conducting business in the lobby area for contact tracing.
Social Distancing – Customers and employees remain at least six feet apart from each other when visiting a financial center lobby.
Filtering Air – The bank will install a new HVAC filtration system throughout our financial centers for better air circulation and purification.
Cleaning – All our financial center cleaning initiatives will be increased, including enhanced cleaning and sanitization of financial centers every day and a quarterly deep cleaning/sanitization.
Alternative Banking – We encourage customers to continue to make appointments for lobby service, use our drive-ups where available and our mobile/online banking services to conduct routine banking transactions. All of these methods will help limit exposure to others.
We thank you, in advance, for your understanding, patience and cooperation. Welcome back!