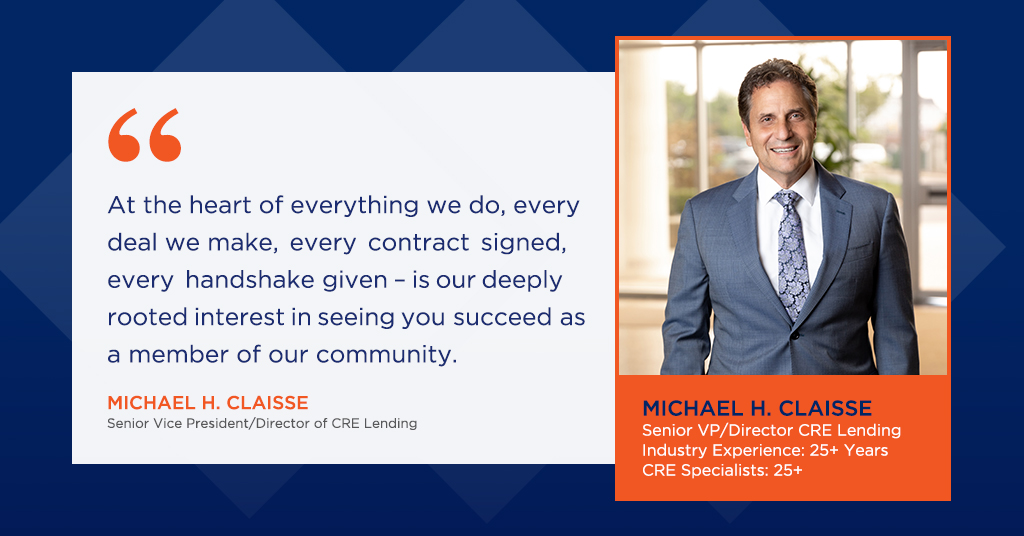 Michael H. Claisse, Senior Vice President and Director of Commercial Real Estate Lending at Spencer Savings Bank, recently sat down for an interview on all that Spencer Savings Bank has to offer the Commercial Real Estate market.
Tell us a little bit about what Spencer Savings Bank offers the Commercial Real Estate market?
Spencer Savings Bank provides a full range of financing options for prop­erty types ranging from multi-family to commercial (includ­ing mixed-use, retail, medical office, flex/warehouse, and industrial) as well as construc­tion loans (rental units and smaller for sale residential properties). We also provide financing and refinancing options for smaller sized 1-4 family investment properties. Our well-seasoned staff has the knowledge and expertise to help power financing needs for stabilized properties, pur­chases, or development of investment properties. We at Spencer are cognizant of the financial difficulties that have occurred in 2020 and have strived to provide our current consumers with needed relief, while welcoming new financ­ing opportunities for both existing and new clients.
Who would be the bank's target market?
The credit quality of Spen­cer's $2.4 billion loan portfolio has helped make it one of NJ's strongest community banks, resulting in growth that expands well beyond our brick-and-mortar footprint. Headquartered in North Jer­sey, the bank has a proven track record of helping real estate investors and develop­ers throughout New Jersey, as well as across the tri-state area. Our target customer consists of medium-to-large size real estate developers and owners within this mar­ket area.
What was one of your most note­worthy transactions or proj­ects last year?
Highlighting only one proj­ect is a hard task as we have closed on several noteworthy transactions in 2020. Span­ning across multiple states, these commercial real estate loans have ranged in size from $1MM to upwards of $20MM. A few permanent loans recently closed include a $21MM commercial mortgage, secured by a four-building de­velopment in Far Rockaway, NY and a $14MM refinance of an agency loan for a 66-unit apartment building in South Orange, NJ. Additionally, Spencer provided $17.5MM in financing for a medical office building in Great Neck, NY. As we expand our construction portfolio, a significant con­struction loan recently closed was an $8MM loan to build a 25-unit apartment building in Jersey City, NJ.
Where do you think the bank's largest growth area is and why?
While the pandemic did stall plans, we will continue to grow our construction fi­nancing together with persis­tently growing our permanent multi-family and commercial loans. We anticipate, and are prepared for, a large surge within the bank's footprint as capital moves from the restric­tive New York City market to the New Jersey market, due to rent regulations that continue to amplify and a potential exodus from the high-density area.
What separates Spencer Savings Bank from the competition?
Our lending team – which is flexible, nimble, and creative – offers expe­dited approvals on deals. With localized decision-making and direct access to decision-makers, our team will work hard for you to streamline the lending process, helping you to save time and focus on your commercial project. We offer this, as well as a strong abil­ity to adapt to ongoing market conditions and client needs. At Spencer, we constantly empower our team to find alternative solutions to meet complex borrowing needs. We work closely with our clients to ensure they get the financing needed to achieve their goals. The team at Spencer main­tained a relentless commit­ment to providing financing during the troubled economy of 2020. We continued to make loan options available, while noting the necessary enhanced underwriting these times required.
What are the top reasons someone would choose to do commercial business with Spencer Savings Bank?
We're a community bank and community banks are dif­ferent. We truly care about our clients and helping them meet their needs and exceed their goals are always our focus. At the heart of everything we do, every deal we make, every contract signed, every hand­shake given – is our deeply rooted interest in seeing you succeed as a member of our community. We are ready to answer questions, listen to points of view, and create strong partnerships. Combine these strong community-bank­ing values with our local, fast decision-making capabilities, and flexible, creative lend­ing options – and you have a winning strategy. That's the Spencer way!