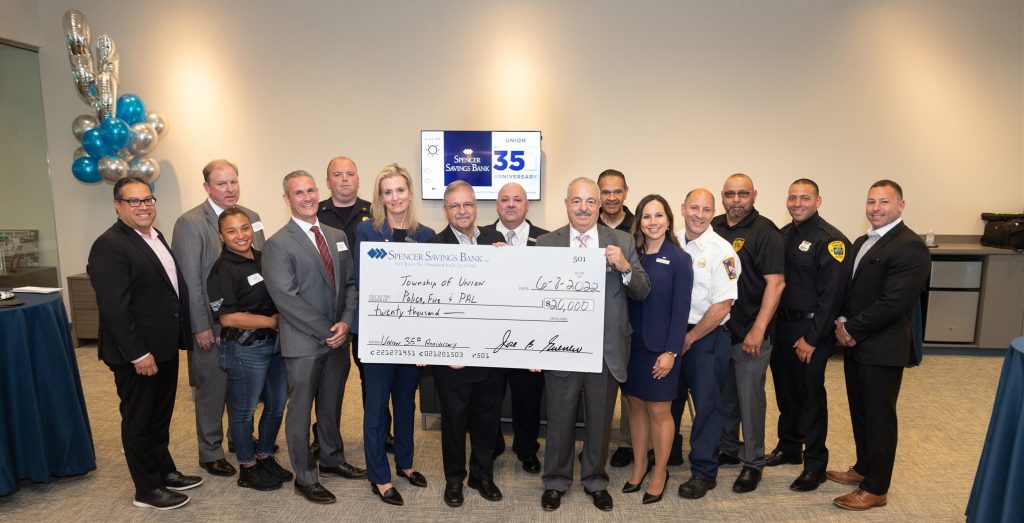 Spencer Savings Bank, a leading New Jersey-based community bank, celebrated its 35th anniversary in Union, New Jersey. In honor of the anniversary milestone, the bank donated $20,000 to the Union Police Department, Union Fire Department and the Union P.A.L.
"We are excited to celebrate our 35th anniversary in Union! We first opened our doors here in Union County three and a half decades ago.  It is a true testament of our company's strength and stability. In 2020, we relocated to the Galloping Hill Shopping Center, as well as made beautiful renovations and technology upgrades for our customers to enjoy," stated Jose B. Guerrero, Spencer's Chairman and CEO. "We are proud to make this donation to these community heroes and thank them for the work they do daily to help the Union community. We are especially proud of all the relationships we have built here over the years, the partnerships formed and projects completed all for the benefit of helping our Union community grow, thrive and succeed!"
The bank hosted various events in town as part of the anniversary celebration for customers, prospects, town officials, community organizations and the broader community. The Union Financial Center (located at 1350 Galloping Hill Road) has a variety of checking, savings, CD, home loan and business line of credit anniversary specials, which will be available through July 30th, 2022.
In 1987, the bank first opened its doors in Union County with a Union location. Since that time, the bank has grown to 26 financial centers and almost $4 billion in assets. It is focused on, and committed to, providing high-quality personal and business banking products and services, with a high-level of personalized attention and care. Today, Spencer has locations all throughout the state, including four locations in Union County in the towns of Westfield, Cranford, Union and Elizabeth.