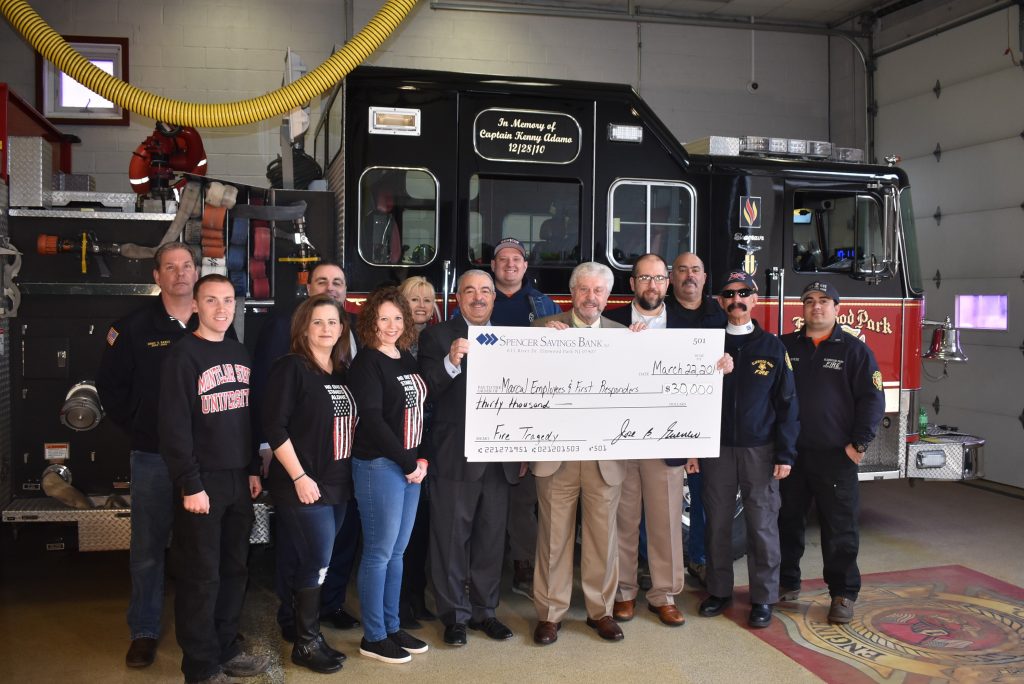 Spencer Savings Bank recently made a $30,000 donation to benefit those who suffered through the Marcal Paper Plant fire tragedy. The historic New Jersey paper plant was largely destroyed by a devastating fire on January 30, 2019. A $25,000 donation was made to the Marcal employees affected by the fire and $5,000 was also donated to sponsor a brunch, coordinated by the Elmwood Park PTO, to help honor all the first responders who fought the blaze under harrowing weather conditions.
"We thank Spencer Savings Bank so much for their amazing generosity; these funds will support our GoFundMe campaign to help the employees that lost their jobs due to the fire that engulfed our mill that terrible night," stated Rob Baron, Chief Executive Officer of Soundview Paper Company.  "We will always be grateful to the actions taken by dozens of courageous first responders from so many neighboring towns, individuals who worked with Marcal associates to ensure that there were no injuries or loss of life in this tragedy."
"Spencer Savings Bank has been part of the Elmwood Park community for over a decade, with our headquarters located very near Marcal. We were incredibly saddened by the tragedy. The iconic Marcal Paper Mill was a historic landmark and staple in the community for decades," stated Jose B. Guerrero, Chairman, President and CEO of Spencer Savings Bank. "As a community bank, we were very happy to help the Marcal employees and are proud to honor all the first responders who did an amazing job. We too, are #EPStrong, and proud to help support the people that live and work within this community. We wish the Marcal company much success in rebuilding!"
On January 30th, a massive fire destroyed the iconic Marcal Paper factory located in Elmwood Park, N.J. The company, owned by Soundview Paper Company, is one of the leading producers of recycled products and has been producing paper tissues, towels and napkins since the 1930's.  The massive fire burned about 90% of the plant and left nearly 400 workers without jobs – many who had spent years or even decades working at the company.   Over 100 firefighters, many of whom were volunteers, from surrounding towns tended to the fire. They spent countless hours struggling with the fire due to the cold weather and visibility issues caused by large amounts of smoke.    Over 200 workers where inside when the fire broke out and all evacuated safely.
For more information on the Marcal company and how you can help, please visit them online at www.soundviewpaper.com.