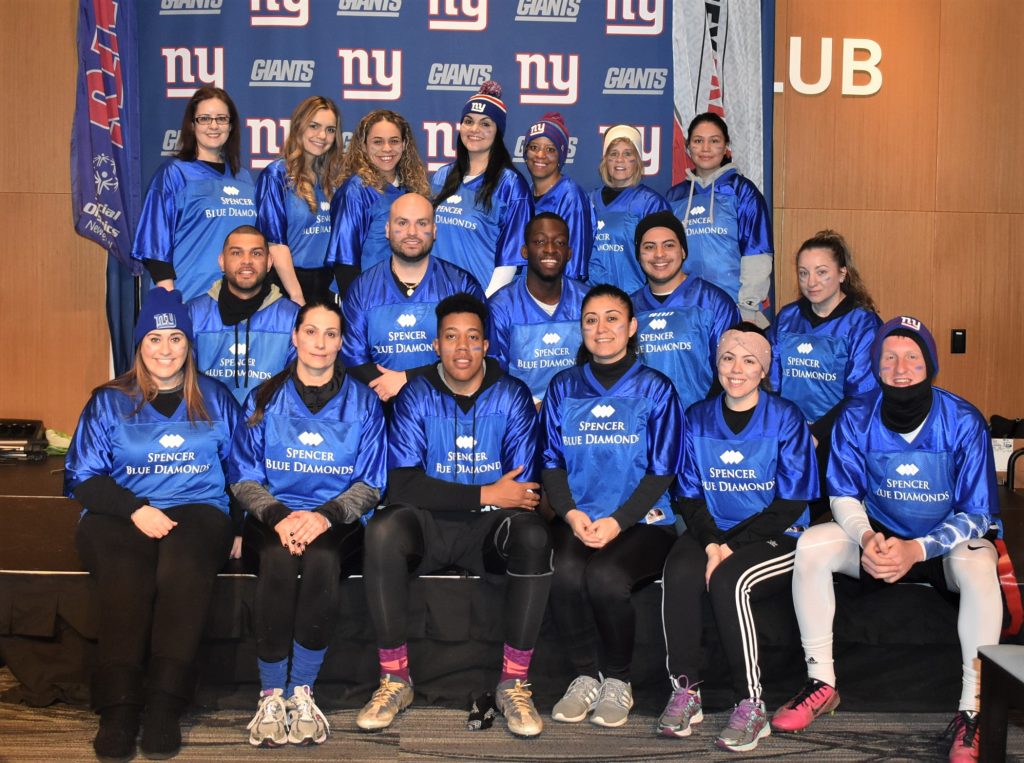 Spencer Savings Bank has raised $18,633 for Special Olympics New Jersey, with its 8th year participation in the New York Football Giants Snow Bowl. The bank continues to be one of the strongest supporters of the organization, coming in as the 2nd highest fundraising team overall, continuing its streak of being one of the top three fundraising teams.
"I love the Special Olympics and all that it has done for my daughter, Brittany. She's not a morning person, but when it comes to this, there is no convincing needed. She jumps out of bed, puts her Jersey on and is ready to go," says Bill Mount, parent of a Special Olympics athlete. "Seeing the joy on my daughters face as she runs on the field and connects with her peers, is priceless. The Special Olympics makes her happy, helps her feel included and holds a very special place in our family's hearts."
Employees were hard at work hosting a variety of fundraisers that took place at the bank for over two months leading up to the event. Generous donations poured in from employees, family, friends, and customers. On Sunday, March 17th Spencer employees competed at the New York Football Giants Snow Bowl, an annual three-day flag football tournament. The "Spencer Blue Diamonds" were hard at work, spending weeks practicing for the 30 minute games. They gave it their best and came in strong – winning 2 out of 3 games, with a total of 10 touchdowns.
"We are happy to continue to support Special Olympics New Jersey and its mission to improve the lives of people with intellectual disabilities," stated Jose B. Guerrero, Chairman, President and Chief Executive Officer. "The organization does amazing work and we're so proud to be part of it. To date, we've raised almost $120,000 for the NJ chapter! This is a great example of the impact we can make, in improving lives, when we come together as a community. We thank all the employees and customers in helping us support this cause by donating their money, time and efforts. We do it for the Brittany's of the world, who hold a special place in our hearts."
Special Olympics New Jersey supports sports competition and training for over 25,000 Special Olympics New Jersey athletes. Since 1968, the organization has been changing attitudes about the talents of people with intellectual disabilities and creating a more inclusive world. To learn more about the organization, visit www.sonj.org.