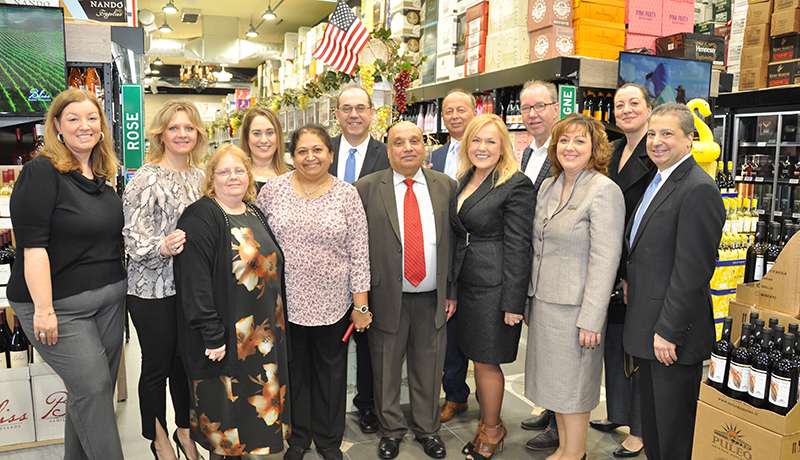 In celebration of National Small Business Month, we sat down with a Spencer business customer to hear about his story – his start in business and road to success. Mukesh "Mike" Papaiya, a Spencer customer since 2003, is an experienced and successful businessman operating numerous business entities: a tobacco distribution company, seven family owned liquor stores (under USA Wine Traders Club), several convenience stores, three hotels, and three bowling alleys. Not bad for a young boy who came to America at 21, from India, with $6 to his name.
What was the inspiration behind starting your first business?
I've been here in America for 41 years now. When I first came I didn't speak English. I ended up going to Fairleigh Dickinson University full time, for engineering, and working fulltime as well. I was taking night classes because I had to work during the day. I had zero financial support from family and friends. I was independent. When I graduated I worked for PSEG in Newark, N.J. as an engineer for a year and a half and then was let go. That was my last job working for someone else. I left when I lost that job and decided to become independent – going into business for myself. I got my real estate license and worked part-time in that while also starting small candy stores in Paterson, N.J. My brother-in-law and I purchased our first candy store, with $11k down each. I was a full time engineer in a candy store because I had lost the job. From there, I started to learn the business world. The main inspiration was out of necessity.
How were you able to expand and grow into all these different businesses?
The first initial candy store started to do well and we decided to expand the stores. I was able to buy two other stores within a year and a half. Then, at one point I realized – what am I going to do with all these little stores? So I bought a supermarket. While I had these stores, I used to go into Jersey City to a distributor to buy cigarettes for them. One day I had a discussion with the owner and told him I was interested in joining the distribution business. He told me he would help me and get me an application. I didn't have financing available and I didn't have any space. So, I almost forgot about that idea, but then about a year and a half later one of my friends wanted to buy a liquor store and told me he did wholesale in NYC. We started to talk and decided to do wholesale. At the time, my sister and I lived in a two-family house and ended up launching the wholesale business from our basement – candy and tobacco distribution. A few months later, we were able to move to a better location in Garfield. From there we grew a lot and it's been twenty-three years now. In 1995, I also became a NY stamper – tax stamper. We still do that here. We own the only license in Bergen County.
I just had good basic concepts from one business to another. I was totally self-taught. There were many businesses but always one focus – being a good businessman. Along the way, I also had business partners that helped. Our family would always own more than 60% of the business and we would bring in a minor partner for 40%.
Have you had any business failures along the way?
Yes, I have. I used to own Subway sandwich shops and convenience stores that failed. I lost a good amount of money in those business ventures. I think a large part of that is not having the right team that fit in, and having others manage your business instead of yourself. That is where some businesses fail. One of my business partners was also stealing money. You have to surround yourself with the right team to be successful in business. And, once you start to lose money you have to get out quick. If you don't get out quick, eventually you are going to lose more money. You don't want to dig yourself into a deeper hole, spending hundreds of thousands of dollars, to try to fix it and then lose more. You are going to fail.
What's your advice to other small business owners or people in the community who would be interested in opening up a small business?
My advice to small business owners would be to think positive, work hard and be focused in what you do. For most of my life I have worked six days a week/80 hours a week – sometimes more. Try to surround yourself with a good team of people. I have had the best team of people around me my whole life which is my family. They are all involved in the business – my wife, children, nephews and son in law. Without them I wouldn't be where I am at today. It's a great thing to have because when I am not here, my family knows the business and can fill in for me without skipping a beat. All the business matters flow effortlessly. I also trust them which is essential. And I would also say to start small. I used to open up smaller liquor stores because if I lose one, I can digest it. Today, our family owns seven locations because of that.
What do you like about banking with Spencer Savings Bank?
I left a bigger bank because I was not happy with them, for various reasons, and was doing some research, trying to find another one that was a good fit. I walked into three banks. When I walked into Spencer Savings Bank in Garfield on Outwater Lane and met Marzena, I just clicked with her. I had a connection with her and we've become very close. I've known her for 10 years now. You have to have things in common. If I don't like the person, I can't work with them. The branch team there was great. We connected really well and anything I ever need I call them and they take care of me. It's been a great partnership and working relationship.
After that, I also started to work with Kim Higgins (Commercial & Industrial Lending department) with my real estate ventures and Jim Harilaou (Mortgage department) who did my personal home mortgage. I've worked with Jimmy for the last 15 years. I have my personal mortgage with Spencer, on a newly built home.
We have over 40 accounts with Spencer – all business accounts, kids accounts, all types of accounts. They are our prime bank now and I've referred lots of customers to Marzena in Garfield. If anyone asks me, here in my market, I say to go to Marzena. If anyone is looking for a home mortgage, I always connect them to Jim. I started to work with Kim 2-3 years ago and we connect really well also. Spencer has a great team of people and I'm very happy with all three of them. They have great service.
In the last 2 years, Mike has partnered up with Spencer, obtaining financing on various business ventures. One such venture included financing to purchase and full renovate Hamilton Lanes, a 40 lane bowling alley. Mike applied the same successful business model to this property as he did with the two other bowling allies – to be "family entertainment centers" which include large arcades, cosmic bowling, laser tag, and family friendly restaurants in addition to the traditional bowling activities. And, most recently Spencer closed on a commercial mortgage loan facility to refinance mortgage debt and build out a 19,000 sq. feet facility, transforming it into an upscale wine and liquor store – USA Wine Traders Club (Market Street, Saddle Brook). This is Mike's latest business venture! It is a state of the art facility that includes over 8,500 sq. feet designated for designer wines with a wine tasting station, collectable high-end wines, a walk-in cigar humidor and more. The store includes all of the successful display and marketing ploys that have been successful at Mr. Papaiya's other wine and liquor stores. But most importantly, it has one of the lowest prices for liquor in the state. Price matching is also guaranteed.
Mike and his family have a goal to do $150 million in total retail sales across all the stores, and are well on their way to reaching that goal! Spencer congratulates Mike, and his family, on all their hard work and success. We're happy to celebrate you and all our small business owners in the community. Small businesses are a growth for the U.S. economy and we want them to be very successful. Find all of the business banking services you need to succeed in Spencer Savings Bank's BusinessEdge suite. Whether you're a business owner using these tools yourself or a professional service provider looking for more ways to assist your clients, Spencer is here to help you stay ahead of the competition.