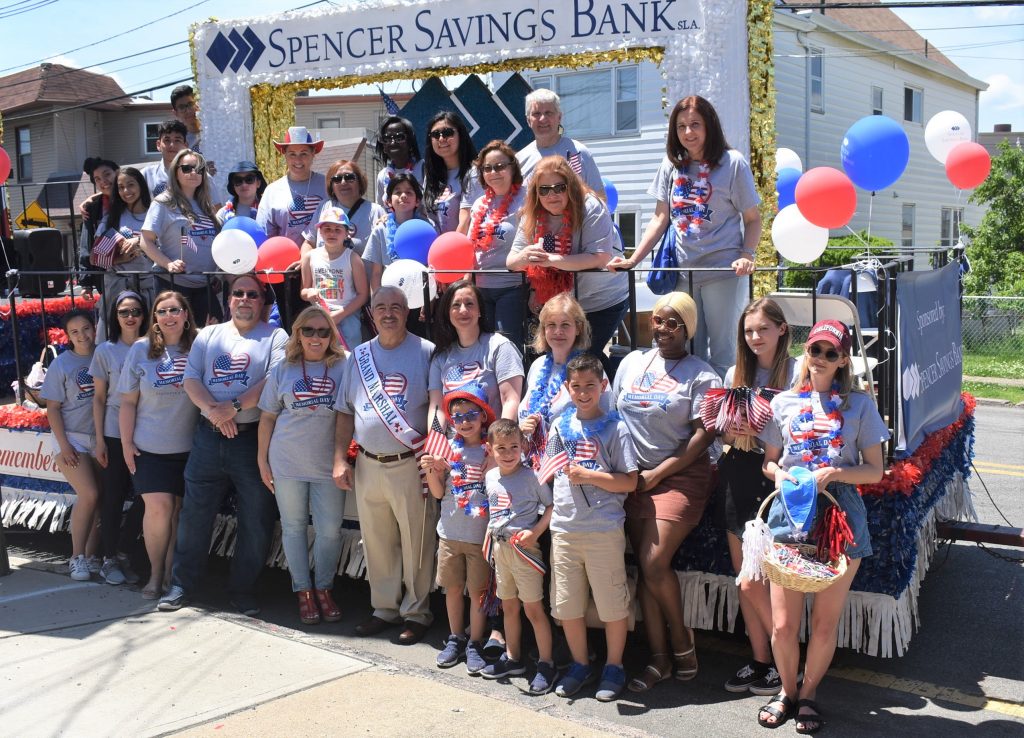 Jose B. Guerrero, Chairman, President and CEO of Spencer Savings Bank, was recently honored as the Grand Marshal of the 2019 Garfield Memorial Day Parade. A team of Spencer employees, family and friends came out to celebrate, remember and honor those who served our great nation.
"Mr. Guerrero's contributions to our community in his many years at Spencer Savings Bank are immeasurable," stated Garfield Mayor Richard Rigoglioso. "Spencer Savings Bank has a major presence in this community because of him, the team he leads, and his commitment to our city. On behalf of myself and council, we salute him and thank him for his dedication to the City of Garfield."
The event kicked off with a ceremony at the Veterans Monument, followed by the parade that ended at Columbus Park with food trucks/vendors. Congressman Bill Pascrell, a native of Paterson, attended the event, along with the Mayor and other city officials. Residents lined the streets to remember and honor veterans, waiving their flags, as various community organizations and businesses marched by and rode their festive floats with enthusiastic cheers. The bank was a proud sponsor of the annual event for the community.
"Thank you to the City of Garfield for this great honor. We have been a part of this community since 1939, when we opened our first branch on Passaic Street, and have been committed to supporting this city ever since," stated Jose Guerrero, Chairman, President and CEO of Spencer Savings Bank. "Garfield is home to us and we will continue to support this community in every way we can. It was a great event and beautiful afternoon. Spencer honors all the brave men and women who have helped protect this great nation. Thank you for your service."
Spencer Savings Bank, a community bank headquartered in Elmwood Park, N.J., opened its first branch in Garfield on Passaic Street in 1939. As a community bank, its mission has always been to reinvest back into the community by supporting a variety of local business and workforce initiatives, civic groups, charitable organizations, youth programs, academic achievement programs, scholarships and more. It is known as one of N.J.'s strongest community banks with 21 locations, a team of almost 300 dedicated employees and a total asset size of $3 billion. The bank specializes in delivering premier banking products and services for consumers and businesses. For more information, please visit SpencerSavings.com.
Jose B. Guerrero has been with Spencer for almost 40 years. He is the Chairman, President and Chief Executive Officer of the bank. He has dedicated his life's work to ensuring Spencer remains a safe and prosperous financial institution, serving both its customers and their communities well. Under his dedicated leadership, the bank continues to grow and thrive – bringing along the communities it services with it. Among the many awards he has received, is a recent David Sarnoff Award for Advocacy. The award honors immigrant entrepreneurs making a difference in NJ.