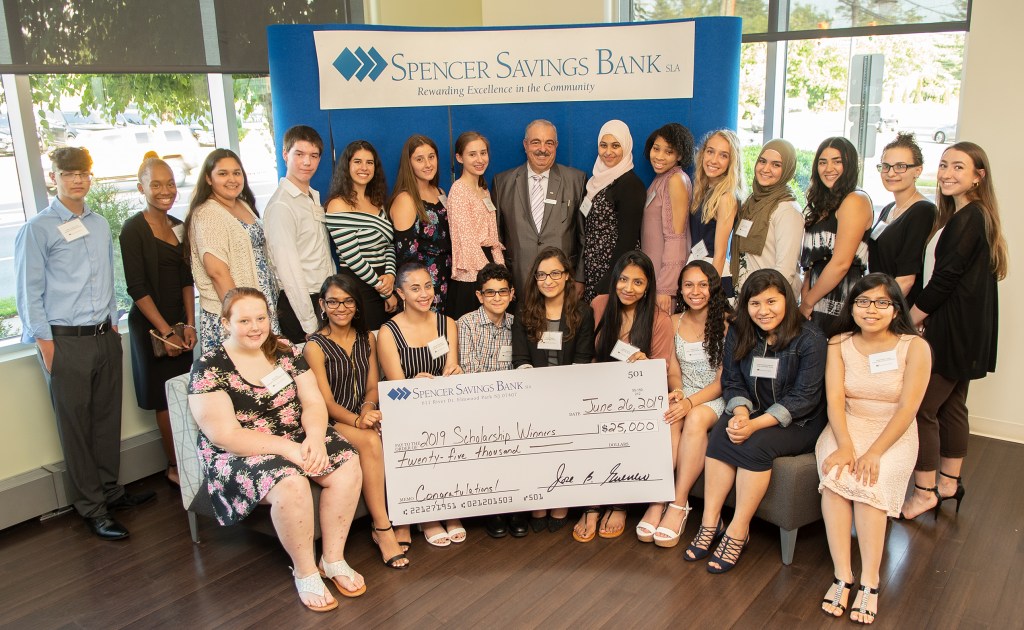 Spencer Savings Bank recently awarded $25,000 in scholarships to high school and middle school students from 33 local schools in Bergen, Passaic, Union, Mercer, Morris and Essex counties. The awards were distributed at the bank's annual scholarship ceremony on June 26, 2019. To date over $400,000 has been awarded, since the program first started in 2002.
"We are so proud to be able to award these scholarships to students in our community. Lack of financial support is one of the greatest roadblocks to higher education," stated Jose B. Guerrero, Spencer's Chairman, President and Chief Executive Officer. "Education is one endeavor we will always support. It is the single best thing you can do to build up a community and that is our mission every single day. Congratulations to all these students who are working hard and shaping a bright future – for themselves and for those around them!"
Students from various New Jersey school districts, within Spencer's market area, received scholarships. The winners are selected by the school's guidance department. High School students each received a $1,000 check, and middle school students each received a tax-advantaged Coverdell Education Savings Account (CESA) with $500 deposited to encourage future saving. The Spencer team surprised the students at their school ceremonies and presented them with certificates. All of the students, and their family members, were then invited to the bank's annual scholarship ceremony where guests enjoyed a light buffet dinner, connected with Spencer's management team and took photos with the bank's president. Spencer Savings Bank congratulates all the 2019 scholarship winners and wishes the group lots of success.
Scholarship recipients attend the following New Jersey schools:
Bergen County: Diane Bednar (Elmwood Park Memorial High School), Diana Pereira (Garfield High School), Haneen Alsurakhi (Lodi High School), Somaia Hassan (Lyndhurst High School), Madeline Knepp (Saddle Brook High School), Jakub Zak (Wallington High School), Jeelben Patel (Wood-Ridge Jr/Sr High School), Rosamargot Chang (Elmwood Park's Memorial Middle School), Aleksandra Tomaszkowicz (Garfield Middle School), Natalie Caruso (Lodi's Thomas Jefferson Middle School), Naveah Washington (Lyndhurst's Lincoln School), Alessio Joseph Loiero (Saddle Brook Middle School), Julia Iwinski (Wallington Jr/Sr High School), Erik Ramirez (Wood-Ridge Jr/Sr High School)
Passaic County: Genesis Isuiza (Clifton High School), Cora Fogel (Wayne Hills High School), Nader Doura (Clifton's Woodrow Wilson Middle School), Mark Goodrich (Wayne's Schuyler-Colfax Middle School)
Union County: Alexis Santoro (Cranford High School), Jasica Abedin (Elizabeth's Alexander Hamilton Preparatory Academy), Tatum Thompson (Union Senior High School), Steven Zucker (Westfield High School), Saniya Licorish (Cranford's Hillside Avenue School), Keisean Bracy (Elizabeth's Mabel G. Holmes #5), Gabriel Snedeker (Garwood's Lincoln Middle School), Anahi Guerrero-Herrera (Westfield's Edison Intermediate School)
Essex County: Alexa Fuchsberger (North Caldwell's West Essex Regional High School), Kevin Zhang (Nutley High School), Sarah Data (North Caldwell's West Essex Regional School), Valeria Flores (Nutley's John H. Walker Middle School)
Mercer County: Breonna Meyers (Ewing High School)
Morris County: Frank Baccaro (Parsippany Hills High School), Alexis Billy (Parsippany Central Middle School)