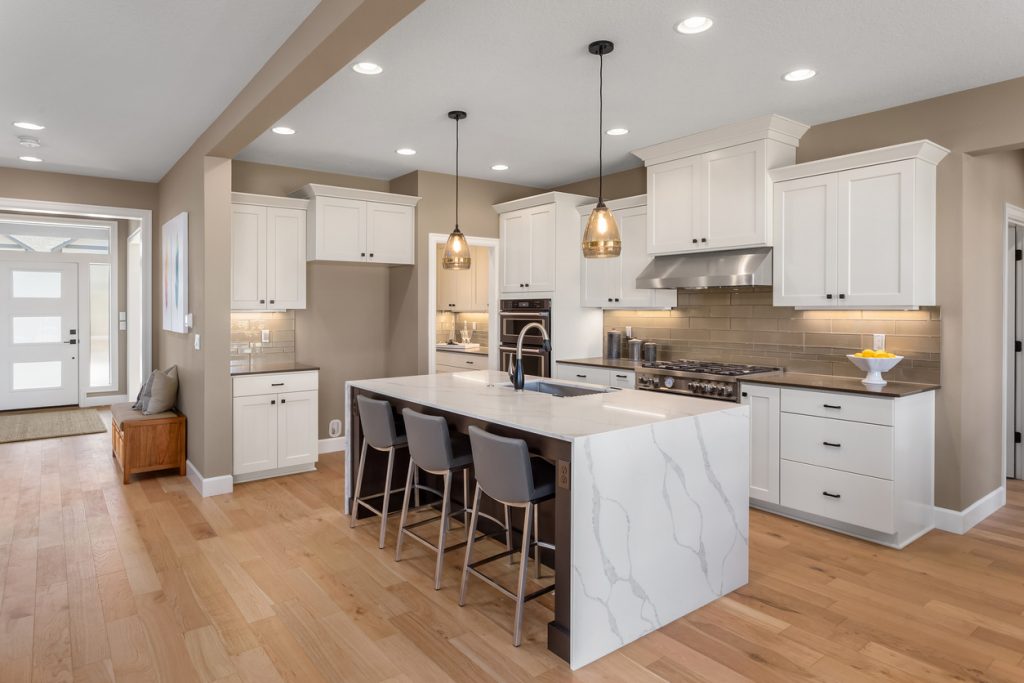 A tax refund can act as a very welcome bonus. One of the best ways to spend your tax refund is by making improvements to your home. Home projects can raise the value of your home and improve its aesthetics and functionality. Below are five of the best home renovations to spend your tax refund on:
Installing a Wooden Deck
Installing a wooden deck is an effective way to improve curb appeal and add value to your home.
Plus, it also adds an outdoor room, so you can enjoy spending time with friends and family. Adding a deck is often significantly less expensive, to add outdoor living space, than building an addition to your home. Most spend around $4,000 to $12,000 to build one, so you may need to wait until you receive a significant refund.
Replacing Your Front Door
You can use your tax refund to replace your front door. Replacing your front door improves curb appeal and makes your home appear more welcoming. It is a great way to add value to your home without spending a lot of money. The curb appeal resulting from a new front door can add thousands to a home's perceived value. Good curb appeal attracts more buyers and can help your home sell more quickly. Depending on the material it is made from and whether it comes with additional decorative elements, a front door will cost anywhere from $1,000 and $5,000.
Upgrading Your Kitchen Cabinets
A tax refund can help you upgrade your old kitchen cabinets. Cabinets can make or break the kitchen and are an excellent way to add value to your home. Modern kitchen countertops come in a variety of textures, colors and finishes. The size and style of your cabinets' new doors and drawers will impact your bottom line, as will the cost of labor. An average homeowner might spend $4,000 to $13,000 for new kitchen cabinet costs – depending on the size of the kitchen, the wood variety chosen and any additional added details.
Insulating Your Attic
Insulating your attic is one of the more functional home improvement projects you can carry out. It involves sealing and covering your attic with fiberglass and other materials to prevent heat from escaping and cold air from entering your home. It also helps to prevent your roof from leaking and damaging your ceiling. Sealing your attic helps lower your energy bills and keeps the temperature in your home well regulated. It is one of the most effective ways to save money on your energy bill. Depending on the size of your attic and what insulation material you choose, you can expect to pay anywhere from $1,500 to $3,500 to complete this project.
Installing a Home Automation System
Smart homes and home automation were once thought to be something for the distant future. However, many young homebuyers want to see home automation in the properties they purchase. A home automation system uses several smart devices to help you control processes such as heating, security, lighting and others through WIFI or an Internet connection. There are several benefits including energy efficiency, convenience and increased security. The average cost of installing a home automation system is about $2,000-$7,000, but the actual cost depends on a variety of factors, including the current state of the home's wiring which may require updating. There are many different home automation systems. Most systems make your home more energy-efficient, comfortable and secure – making this one of the more popular home improvements.
In Conclusion
A tax refund is a good opportunity to work on making some important improvements to your home. Depending on your refund, you can try to find a project that will suit your budget and improve the aesthetics and functionality of your home. If you find that your tax refund does not cover the project expense, consider other options such as a Home Equity Loan. A Home Equity Loan can help cover some of your project's higher costs. To learn more about Spencer's great home equity products and rates, contact your local financial center, give us a call at 1-800-363-8115 or visit our website. Once you are approved and the loan is funded, you can get going with your improvements with all the cash you need to pay for them!