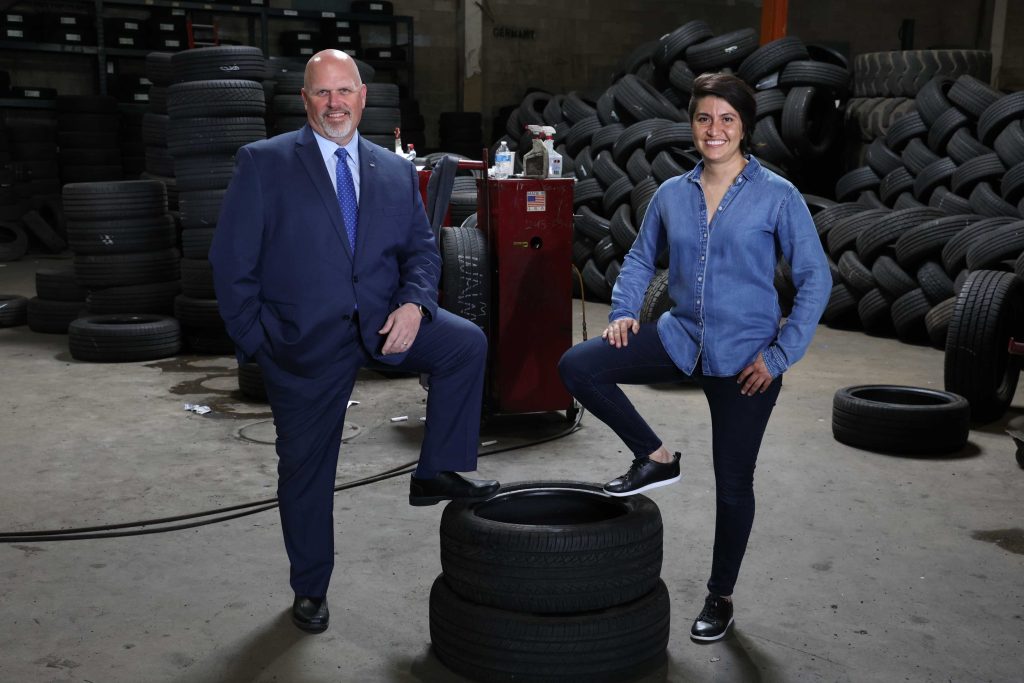 Emily Schneider, Owner of Ben Tire, Linden, NJ
Emily Schneider was born in Costa Rica and came to the US at 12 years old. After attending high school, she began working with her mother, a business owner. Today, she is owner of Ben Tire, a successful wholesale and transport tire company in Linden, NJ. The business holds and transports waste tires across NY, NJ and PA.
How did you get started in the tire business?
I came across the opportunity. I met somebody that was in this business for over 15 years, so I felt confident he had enough experience. He was having some trouble with his partner, so it was an opportunity that presented itself to me and I took it. I had some money saved and I invested it. The business was very unorganized. It took me about three years to get it fixed and thriving to where we are now.
I've always been very tough on myself so that's why I think I like this business. Not a lot of women can be around this type of environment but I like it. It entertains me. It's different. I also feel I have a unique business opportunity which, although is not an easy one, has the potential to turn into something really life changing.
What made you decide to become a business owner?
I like the fact that you move your own money. My mom has always had real estate – buying and selling.
My mother was a huge role model and mentor for me. She is an entrepreneur and got into the restaurant and bar business. I saw with her that bills were always paid. I saw that growing up and it made me become an entrepreneur as well. She is a tough woman who has done very well for herself in this country. She raised 3 kids by herself and successfully ran multiple businesses, the Bamboleo nightclub (in the past) and Tiki Mojito (currently), in Elizabeth, NJ. She has done very well for someone that did not go to school. I guess whatever you do with passion, you are always going to be successful. This lesson is probably her biggest legacy for me.
How do you manage the relationship with your business partner?
I think partnership can be tough. It's important to treat it as a relationship, just like any other, and build from there. It's almost like a marriage. I share 50% of my business finances with him. You have to agree on things and it can't be what I think versus what he thinks. You have to work it out. I think that's why we have been successful. I try not to step on his toes and he tries not to step on mine. We are each in charge of different aspects of the business. I am the organizer and head of the business. I stay on top of everybody's job, especially in the office when it comes to accounting and numbers.
What are your future goals?
My goal is to eventually recycle tires myself and make money from every component in tires. I would love to shred them using my own company. The project requires a significant big property with lots of parking for heavy duty equipment, 4 million dollars in shredding machines, a license from the state, etc. That's our goal. There is only one tire recycling plant in the state. I would be the second one and the first minority and women owned. That puts a smile on my face!
How does it feel being a woman Hispanic business owner?
It makes me feel good. I believe women think differently and are very good with various management tasks. As a woman at times it has been tough because I am the only one in my company. However, it's challenging and I like that. It makes me feel good to have the answers. It makes me feel good and very capable. I believe there are so many benefits that women bring to leadership roles. I have gained a lot of respect from men in the field and this also makes me feel good about myself, to know that we are all equally capable.
I also like the fact that I can speak two languages and understand two different cultures, especially in this area where there are a lot of Spanish speaking people. It's definitely a plus. I am proud of my heritage and that I have been able to achieve success in this country. I own my own house, my own business, my own cars, etc. I have worked hard and am very blessed.
How did the partnership with Spencer form?
When I joined the bank, I was running a small facility. I had been in business for about a year in Paterson. It took me a lot of work to organize and the business was behind on credit. I was dealing with some of the larger, national banks. They were all hitting me with "this is a new venture", the clearing of checks was taking forever and everything was not working in my favor. Then one day I was in the office and Ed Kurbansade (Spencer's VP, Market Manager) came to my door and everything changed. He told me he could help.
Community banks, like Spencer, are important because they really take the time to look into your specific needs and build a solid relationship with you as a business owner. I noticed my business wasn't as important to the larger banks.
How did Spencer help your business grow?
I've been working with Ed and Spencer for about 6 years now. We have a really good relationship and it has really blossomed over the years. He is great. Spencer was able to provide me with various equipment loans and lines of credit which helped my business grow. I was also able to save significant monthly fees with their merchant provider.
With Ed, I feel really good and comfortable because I have a direct contact. I know anything I need, he is always there to support me. He promised some things and came through. He was there for me when I needed him. It meant a lot to me. He was very helpful. He made it easier for me during those first few years. I am very content and everything I have always needed they have been there for me, to the point that I don't even consider going to other banks to do business. I always recommend people to Spencer.
_______________________________________________________________________________________________________________________
Contact Emily Schneider (Owner, Ben Tire) at 908-862-3170 for more information on her business.
3401 Tremley Point Rd #6 – Linden, NJ
Contact Ed Kurbansade (Spencer's VP, Market Manager) at 973-942-6004 for assistance on all of your business banking needs.