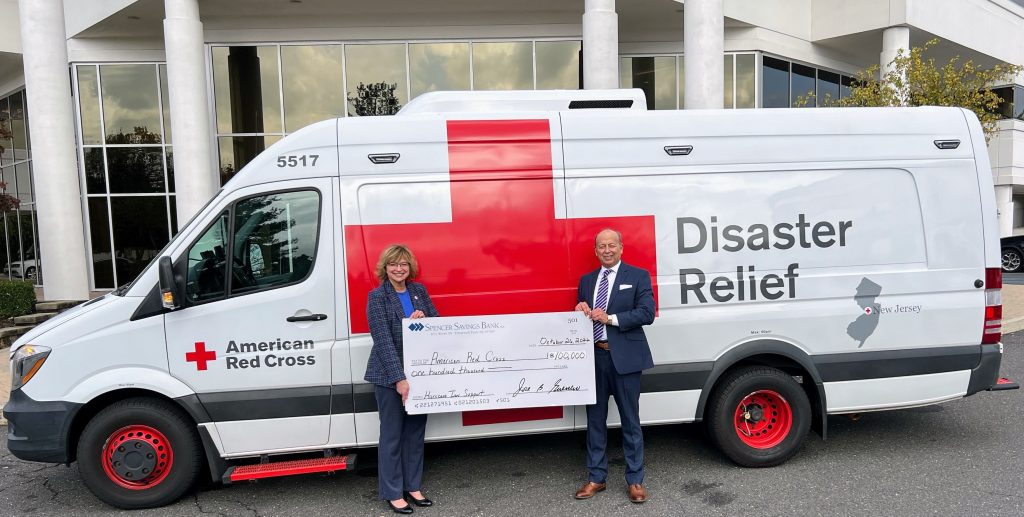 Spencer Savings Bank, a leading New Jersey-based community bank, is supporting the American Red Cross to provide aid to those impacted by Hurricane Ian. The bank has announced a $100,000 donation to the organization.
"Our hearts continue to be with all those communities who have been devastated by this historic storm. We're proud to partner with the Red Cross to help provide resources for relief and assistance to those impacted," stated Jose Guerrero, Chairman and CEO of Spencer Savings Bank. "The devastation from Hurricane Ian has been massive, and they are going to need all-hands-on-deck to recover. Spencer is here to help."
Hurricane Ian has been a major disaster and one of the most powerful storms to hit the United States in decades. Entire communities were swept away. Hundreds of thousands of homes were affected and millions of people were left without power. The catastrophe caused billions of dollars in damage and will be one of the costliest storms in the U.S. history to recover from.
John Duncan, Spencer's Executive Vice President and Chief Lending Officer, presented the check, on the bank's behalf, to the Red Cross. "As a young man I used to volunteer for the Red Cross, picking up and distributing their blood supply to various locations in need," stated Duncan. "I know, first-hand, the amazing work that the organization does in helping people recover from some of their worst tragedies."
Since Hurricane Ian struck Florida thousands of Red Crossers, with help from partners, have provided more than 1.5 million meals and snacks, over 400,000 relief items (cleaning supplies, comfort kits, etc.), 40,000 overnight stays to thousands of residents, health, mental health and spiritual support services and so much more.
"The American Red Cross is fortunate to have such generous support from Spencer Savings Bank to assist with our disaster relief efforts in Florida," said Rosie Taravella, CEO, American Red Cross New Jersey Region. "These funds will go a long way helping those affected by Hurricane Ian who are relying on our services as they start their recovery."
About the American Red Cross:
The American Red Cross shelters, feeds and provides comfort to victims of disasters; supplies about 40% of the nation's blood; teaches skills that save lives; distributes international humanitarian aid; and supports veterans, military members and their families. The Red Cross is a nonprofit organization that depends on volunteers and the generosity of the American public to deliver its mission. For more information, please visit redcross.org.